Jess's Big Night In
May 6, 2009
Jess stared at her phone, waiting for someone to be in desperate need of her consolation so she could rush to his or her side. Anything, anything was better than this. As Jess buttoned Gram's nightgown, she was consumed with thoughts of her friends; it was Friday movie night. Sammy had probably ordered a garbage pizza from Tortorice's, and Mel had probably brought a bunch of old school movies for the crew to watch that night. Jess's thoughts were interrupted by a knock at the door.


"Whaaat isss that Jessiee??"
It surprised Jess that Gram even remembered her name. "You stay right here; I'll be back in a sec." Jess sprinted to open the door, tripping over her grandmother's laundry that hadn't been touched in weeks. The employees didn't take care of Gram well enough for what it cost to put her in the home. They rarely checked on her. It's not like she could remember to do her own laundry. What?... Did they have Alzheimer's too, or were they just plain jerks? With a bitter taste on her tongue, Jess swung open the door to find an older woman dressed in a white shrub outfit complemented with white tennis shoes and long, pink shoelaces. If it hadn't been for her nametag that read, "Hello, my name is Denise," Jess would have guessed she was a neighbor of Gram's instead an employee at the home. 



"Hellooo my dear," greeted Denise. "I believe this is your grandmother's." Denise held up a silver dove that Gram kept with her at all times. Gram believed it gave her strength and hope. She refused to part with the dove, so she strung it on a silver chain to wear as a necklace. Ever since Gram had become sick, she was constantly losing her things even if they were attached to her. 



"Yes, I'll return this to her. Thank you uh…Denise."



"Uh-huh. Remind Clarisse breakfast is at nine tomorrow. She's gotta quit coming down at six demanding breakfast." Yeah, okay. Remind the one with the Alzheimer's. It took effort for Jess to close the door. She slowly came back into the little apartment and headed for Gram's room. Jess pulled the sheets back on Gram's bed, remembering when Gram would tuck her in at night when her parents were out. Gram would always sneak a box of chocolates into the house for the two to sort through right before bed. She had always left a double chocolate-filled piece for Jess.
Gram came shuffling out of the bathroom, carefully stepping over the dirty laundry pile. Once her grandmother was tucked in, Jess headed straight for the refrigerator. She hadn't been brave enough to try the fish filet at dinner, so she was starving. When she opened the fridge, she found absolutely no food except for a bottle of soy sauce and two pieces of musty, old bread. If there was a toaster for the bread, it might not have tasted half bad, but because the home didn't allow any electrical appliances in any of the rooms, Jess was out of luck. She decided sleeping might ease the stabs of hunger pains in her stomach. Jess headed for Gram's lumpy sofa and lay her heavy head on the pillow, falling asleep to Gram's light snoring.
The next day, Jess woke to the sound of birds singing nearby. She eased out of bed, not wanting to face another day of misery meat in the cafeteria and ping-pong with Gram and Mrs. Jenkins. She strode over to Gram's bedroom.


"Come on Gram, Denise said breakfast is at nine this morning. Rise and Shine."
Not a sound escaped from the room. Jess knocked at the door. No answer came from the other side. This was odd. Gram never slept past eight, and it was nine-eleven already. Gram usually was the one waking Jess up by roaming around the small apartment. Jess decided to peak in Gram's room just in case she was dressing. She slowly opened the door, and in no time, the door stood ajar. No one was there. Gram's sheets had been completely removed from the bed and shoved underneath.


"Gram…Gram!!!"
Where could she be? If she was in here, it would be obvious. Jess quickly searched every possible space for Gram.


"Oh boy, here we go again," she said to herself as she quickly raced out of the room.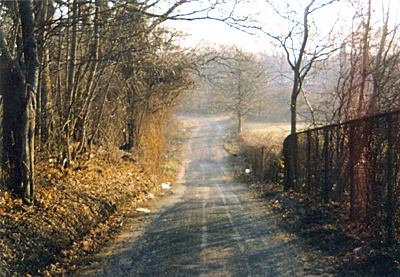 © Cameron C., Milford, CT