The Dancer
June 4, 2009
Her movements are liquid. They flow in time with the steady pulsing of the music.
I watch her from my spot on the dance floor. She glides and twists and turns. Her eyes are closed against all else but the sound waves reverberating through her eardrums. A smile plays on her lips. She spins to the bar and runs her long fingers along the smooth wood. She pushes herself away, skipping to the hum of the notes coming from the speakers in the corner of the studio.
She moves her hands up and down to the music. I feel like a ghost as I watch her graceful movements. She is alone in her own magical sanctum, and I am but a wanderer whose interest is caught by the magic this girl possesses in her every movement. I step carefully around the room, studying the way of the dancer.
Wisps of hair blow across her forehead as she breezes across the floor. Skip, jump, shuffle-ball-change. She sweeps her body low, and then up again, adding a small jump in to finish off her wave-like move. I hear her hum along to the music as she brushes past me. Her arm bumps mine, and I jump back, not wanting to get in her way, not wanting her to stop. She peaks one eye open at me, then smiles and closes it again, adding a leap into her transition.
The song shifts. It is still the same steady, happy-calm beat as before. She smiles as she presses her hands against the cool glass of the wall-to-wall mirrors. She slips this way, then that way, her fingers gliding against the mirror, her reflection matching her every movement exactly. She pushes off the mirror and glides back into the center of the room.
She does a little skip-jump-spin, then skips to my side, grabbing my hand. I follow her willingly; I am under her spell. Her eyes stay closed. She grasps my hands as we circle around the room. I feel very humble in her presence, but she makes it easy. She guides my movements and presses her palms against mine, squeezing slightly when we are to turn or jump.
She is still humming along with the music, and her head bobs to the flow. Her eyelids flutter and she grins. She is enjoying herself in her mental haven. I wish I could go there too. She pulls me across the floor and leaves me in the same spot she took me from before.
Her humming gets louder, her smile stays on her porcelain face. Her hands ark and flatten, conducting the beat. I watch in awe.
A woman enters the room. She catches up with the dancing girl and echoes her movements. Two more girls are admitted into the room. They catch on quickly and begin to match the skips and hops of the dancing girl and the woman. More girls enter and join the dance. I watch, not saying a word, just watching. I could watch them forever. Suddenly, the room melts and I am back on the big, green football field. My arms are open, as if I were holding someone; Like a dance partner.
"Look alive sonny!" someone calls at me. I turn to my left, just in time to be tackled into the ground. I cough and sputter and grumble under my breath as my tackler stands and runs back into the middle of the field. I sigh and stand, wishing for just a few more moments that I was back in my mental studio, watching the girl with the gentle movements. I dream of being a dancer; everyone else expects everything from me, except that. I grunt and twirl into the field like a wish-I-was dancer, earning another tackle from my wish-they-weren't teammates.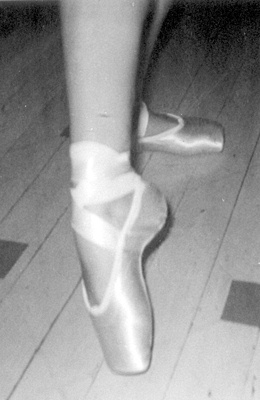 © Amelia B., Philadelphia,PA