PUSH
May 29, 2009
"You didn't cry, did you?" I ask, entranced by her fair presence before me. Shimmering in a heavenly glow, my angel wears a ripped t-shirt cut at the abdomen and torn jeans made entirely of pure light. "You knew it was over." In her right hand, she holds her dislocated left arm twisted in an awkward position while miraculously still attached to its socket. I can't read any sign of discomfort on her scratched face, nor do I want to imagine how much worse she must have looked as the paramedics extracted her mangled body that night. The evidence I see now is clear enough. "God, why didn't you fight? You're strong. You should have stayed awake until the ambulance arrived. You should have fought to live - to see your family again - to see me. To see the very people who love you getting ready to bury you this morning.

"We were supposed to die together. What happened to our plans of having kids and traveling to Australia? Weren't we supposed to grow old with tons of grandkids playing in your garden of daisies?"

My pulse hammers within my strained wrists upraised above my head, holding firm onto my neighbor's balcony rail. Any moment, I expect to wake from this nightmare and find the human incarnation of this angel waiting for me beside her unscathed Mercedes in the apartment parking lot like always. My desire to be with her is too vital for me to wait any longer.

Now! I force my feet off the window sill into mid-air, but I do not fall. Rain pelts the face of a lover who wants to pursue his sweetheart all his life. Thunder roars in the skies above where his arms, my arms, hang - linking life and death. My beloved angel hovers quietly, immune to the rainfall and smiling softly. Let go! She's waiting.

Her image begins to fade into the mist as dawn casts sparkling colors across the skies. "Wait! I'm coming!" I will my hands open, but they remain entwined around the railings, refusing to allow my body's plunging to the pavement. "I don't want you to leave me." Through my soaked lashes, I glimpse her glowing locks spiraling to her shoulders in an enchanted array of ringlets. I urge myself to reach for those curls. To follow. But she confuses me by slightly shaking her head. Stinging tears descend down my cheeks as unfathomable understanding penetrates my obscured mind. She doesn't want me to go with her.

All I can see now is her face reflecting the most brilliant light. A favorite memory enters my head at this pivotal moment. Her distant voice, sweet and quiet, whispering, "PUSH. Pray until something happens." Instantly, I recall her telling me these same words when my dad went into coma last year. Nothing happened then? He passed away once we cut life support. Why should I pray now when my world has come to its end again? Where is GOD in all of this?

But that isn't what she meant. In those months when I felt totally alone and lost, she was there; the answer to my prayers. My personal, beautiful angel from God. She helped me find strength to move on; to live for love. Why was it her anyway? She was so decent to people: Mass every Sunday with me, sincere smiles to our friends, the want to live and offer the world whatever she could. God, why!? She worked for so much; helped so many people. She was made to love! How could one night end it without her being able to see any reward?

Then I was struck. She never did end. Three days after that night, we're still mourning her. I remember her. She didn't just disappear. In our hearts, in my heart, she remains alive. My angel didn't have to wait to see her goodness flourish. She was content with simply living out love. Her reward was knowing she made a difference.

I look up. And now, it's heaven. "You'll never be dead to me," I promise her. Never. I see her eyes brighten, if that were possible. Her smile grows more profound as she regains a spirit that warms every part of my being as I gaze upon her for the last time. The horizon behind her has the sun at its heart; a new day - a new life.

With that, she leaves. And I die. My mind, my heart, my will, stops. I feel the pain leaving my body as God's power overwhelms me like it engulfed my angel. Unlike her, though, there is no blood anywhere on the pavement beneath me. I happily pull myself back onto my balcony step, reenter my memory-filled room, then collapse on my bed, tears finally dried.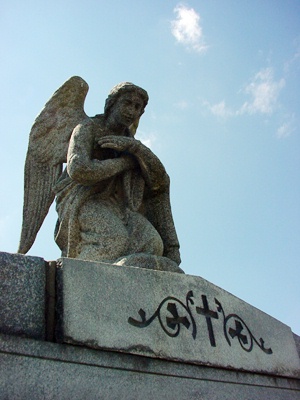 © Greg K., New Lenox, IL