His Message
May 19, 2009
At 1:55 u hung up from me. N as soon as u clicked that end button I couldn't get u out of my mind. I love u. Ima fall asleep wit u in my heart die wit u there.
King of all kingz

My heart stopped when I read that message, wouldn't yours.
I read it again.
I read it again just to see if it had the same effect that it did the first time I read it. I could have killed myself because I read it 5 more times and each time my heart stopped. Now I would read this message about 5 times every day and the effect would remain the same. I guess you could say that it was suicide for my body, heart, and mind. My body was receiving the minimum damage since you can't live without your heart. My mind was just the same has my body just a little bit worse. I swear I would drive my mind insane trying to decipher why my heart stopped. My heart, now that received the most damage. Not only did it stop but it was confused, it felt abandoned, it felt lonely, and scared. It was cold at night and it grew weaker as it stopped.
Now here I am reading it again.
I know I must be stupid or something but it reminds me of him. Of the way he use to hold me, of the way he use to play with me, even of the way he use to smell. I read this message now but the effect has changed. I want to know what he means; I want to know what he was thinking about when he couldn't get me out of his mind. I walk by him in the halls; I walk by him in my room, in my bed, in the park. I want him to know how I feel. I want him to know what I look like crying. I want him to know how much he hurt me. He needs to know all these things so we can move on.

Sometimes I see him glance at me or just look at me when he thinks I'm not looking but I am. The expression on his face is memorable it's a confused, kind of in pain look. I would sit there and wonder why he's so confused, why is he in pain? I just wish he tell me how he feels. I just wish he tell me how he feels about me. He is like a mystery to me. Every now and then he has his "hot n cold" moments with me but then he is fine. I wonder what all the other girls around him see in him. If they know him like I knew him they wouldn't be giggling or smiling. If they knew him like I know him they would run and hide from him. See, he is like those sweet and sour candies. He gets sweet at first but then he sour, really sour and then sweet again.
I read it again
He has my heart in the palm of his right hand. He does not know what to do with it. I am seriously any guy would want me. I am have long thick brown hair, hazel eyes, yummy lips and a body that every man fantasizes about. He is so lucky that he has me. He use to be grateful for me but not anymore. He wants other girls and I'm okay with that, trust me I want other guys too. There's a difference he wants other girls and me that is not how you get me. I respect him and his wishes I'm just not going to let him play games with my heart. Like Fergie said "No, no, no, no don't phunk with my heart".
I read it again for the 4th time
I want to believe he has no heart but that is extremely romantic. I know he is no good for me, trust me I know, it's just something about him. Stuff like that email draws me to him. I always would fall for his sweet streak and then end up getting the sour end. It would always end the same way I couldn't take his sour end and became sour myself. Now it's not the "I love you" part that shocked me because I could hardly believe that. It's the "N as soon as u clicked that end button I couldn't get u out of my mind". See it has only been my dream for a guy to think about me while he sleeps so just him emailing this made my heart stop.
I read it again for the last and 5th time.
I want to talk to him but I don't know how to go about it. What do I say? Do I tell him that I love him too? Do I remain cool and collect asking my questions and answering his. I want to know what do! At first I didn't think this was real. The wet tears let me know that this was real. I quickly replied back with a "casual, don't want to give away my heart" response:
If you get this by the time you get your phone back from Mrs. Bleep but um.......wow...that is all I have to say. I should add this in a poem. I really hope u read this because this totali means we have to talk. (while I read this my heart
stopped but the tears kept going)
Maybe I gave away a more than I should have with the last part. I guess I'll never know because he never responded. Just like always, my heart calls but they never respond. I wonder when he will because the more I look at him the more I feel hurt. I am missing something I think it's him, I hope it's him. Everything is everything.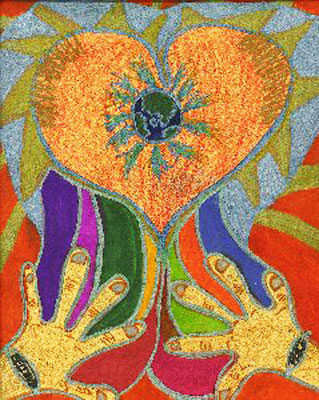 © Amanda P., Clermont, FL