Memories of Erika Kauffman Part 1
May 17, 2009
"Erika. Turn off the radio, and come sit with us. Dinner is ready." Erika sighed. "Yes mum." Erika is a sixteen year old girl, in a regular Jewish family. Her family lives in southern Germany. Roger, (Erika's father) read through the paper. "Those Nazi's set another home on fire." "It's getting worse, and worse. Remember the Elwood's from across the street?" Roger nodded. "Rumor has it they got arrested for being part of the 'Resistance'." Lily (Erika's twelve year old sister) widened her eyes, and dropped her silverware. "They were sent to a camp in northern Poland." Maybe they're life.. wasn't ordinary. The year of 1940, in the middle of war. Charlie, (Erika's older brother) was sent out to war to fight the Nazi soldiers, and defeat Hitler.

"Roger? Wouldn't it be safe to leave the country? I mean we are already in enough danger as it is." Roger folded the newspaper, and cleared his throat. "Hm, maybe." Erika stood from her seat. "Father, we are not even allowed to swim anymore. Do you want us to lose more freedom?" Roger shook his head. "Erika, we can't do anything about that, if we say something about it, we will get arrested, and besides we don't have money to leave, if we try, we will also get arrested."

A loud bang on the door echoed through the quiet house. "Open! Now!" The Nazi's. "Erika, go take your sister through the back door now! You know what to do.. go." "But-" "GO!" Lily got out of her seat. "Father, I want to stay with you." Erika raised her brow, and started to cry. "GO ERIKA!"

Erika ran out the back door, and jumped the stone fence.. she fell hard on her hands, but she kept going. Through the thickest of forest, beyond the stream, and on the other side of the forest. When Erika quit running, it was silent. She knew she was away from Nazi territory. Although, she heard gunfire in the distance. Erika sat there. Alone. She cried to herself, and fell asleep in the cold, damp forest. The only light she had, was the moon, and the only sound she heard.. was silence..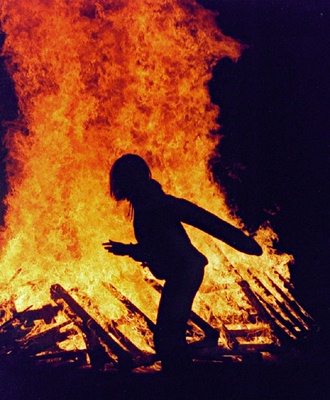 © Hali S., Robinson, IL