Morning
May 16, 2009
The first morning light illuminated the cobblestones of the alleyway, casting golden reflections onto the walls of surrounding buildings. The sun crept up the side of the horizon, staining the sky a dusty peach color. Though the day was already bright, the lampposts still dutifully cast their faint light onto the street around them.
The street was empty except for a lone figure lingering in the alleyway. A man, whom the rays of glowing sunlight seemed to purposefully avoid.
Suffering had followed him wherever he went, carving away his features until he was little more than a gaunt skeleton. He wore a shabby black coat, compared to which his face looked startlingly pale. His brown hair was messy and greasy, barely covered by a hat which sat awkwardly at the top of his head. As the man walked down the dark alleyway, he limped slightly. His every movement seemed deliberate and careful, as if he had to plan each step before it was taken.
A woman in a bright red coat with a small boy in tow frowned at the sight of him. Nonetheless, he tipped his hat politely to her. The woman hurriedly steered her child to the other side of the street and hustled him away.
He couldn't really blame her. He knew he was a startling sight, with his ragged clothes and thin, emaciated features. When he was younger, he used to look at the ground when he sighted people like that, carefully avoiding eye contact. Now he was one of them.
As the woman and her child grew smaller and smaller in his vision, the man closed his eyes.
I was one of you, once, he thought. As if she could read his thoughts. As if she would care.
The man shook his head. Of course she wouldn't care. She was a stranger, and he was on his own--completely alone.
He felt a tear on his cheek.
No. I will not cry. It's been too long. Too goddamn long. I don't even know that woman. What do I care what she thinks?
He leaned against the wall, letting himself sink into it. He thought of the woman in the red coat, and then of another woman; one from long ago, with chestnut hair and blue-grey eyes and a beautiful smile who had loved him. Whom he had loved to, and who had meant the world to him.
Too goddamn long.
The tears again began to roll down his face, and this time, he let them. He leaned against the wall of the alleyway and cried. His breath was uneven; his chest heaved in ragged gasps. He sobbed bitterly, clenching his fists against the wall. Trying to take hold of the memories, his hands could grasp only the morning air.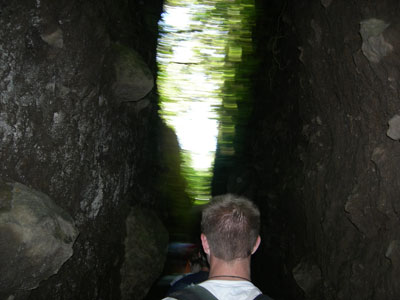 © Erin T., Clinton, MD