Bittersweet
May 7, 2009
On one hand, I'm exhausted, but on the other, I'm so anxious. Exhausted for barely sleeping last night; anxious, nervous, happy and joyful, but also sad, because today is it. Tomorrow, it'll be gone and behind me, and I'll be moving forward.

I look at all the faces around me, faces I've grown up with my whole life. People I've come to known and love through the last thirteen years stand with me, excited and fearful at the same time. We are all in one row. Even though I can't see all of their faces, I remember every moment we have had together. Some sad and troubled, others joyful and exciting, I don't regret any of it.

The band is starting to play the familiar song that has been played every year. It's our cue to start walking through the doors and into the gymnasium. I pause at the door to take in the surreal moment that I will remember for the rest of my life.
The heat coming from the gym overwhelms me as I walk in. The crowd is huge, without an open space left for someone to sit. I follow as I'm supposed to and take my seat in the rows of chairs with my fellow classmates. Breathe, don't forget to breathe!

I take a deep breath and stand for the opening prayer. Everyone around me seems so cool and calm. Inside, I feel like a mess. So many different emotions are filling me that I can't keep track of them.

The principal walks to the microphone and we take our seats. I feel better that I'm sitting, no longer able to fall or collapse. Jason, the guy next to me, taps my shoulder and says, "Didn't you hear him, Ms. Valedictorian?"

I realize that my name was called. I make my way to the front of everyone for my speech. The time flicks by too fast as I run through the words on the paper I wrote. People in the crowd seem to be listening, others half asleep, mad that they got dragged to this ceremony. My classmates are looking in my direction, but I'm sure they have their mind on other things. Even I am distracted by this awe-inspiring event.

Jason gives me a soft and quiet high-five when I sit back down. Now the crushing part is here. I have to watch the slideshow and hope that I won't cry. Pictures pop up as the song "Time of Your Life" by Green day is playing in the background. My breathing staggers when the picture of Janie comes up. I start remembering the last time I saw her alive, prior to her accident. Before a tear comes to the surface, another picture pops onto the screen. I remember this from my freshman year. All of my friends were together, happy and cheerful, with no worries. Pictures keep on coming and each one of them really hits home hard. I can't hold it in anymore.

The moisture flows down my face and the band plays Pomp and Circumstance. I rise from my seat and walk down the line. As I am congratulated by the principal and superintendent, the tears keep rolling and my mouth curves into a smile.

Laughing now, with Jason by my side, I turn the tassel and throw my cap in the air. The feeling of victory and happiness, joyfulness and excitement, overpowers the sadness of leaving behind the best years of my life. I look up to catch my cap, for this is the end. It's a bittersweet goodbye.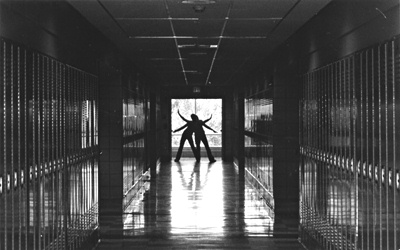 © Sheera G., Marblehead, MA