Good Enough
April 9, 2009
I wasn't good enough for my parents. It was as if I had been put through a daughter-test, and I failed. Twice. With my mom, failure was instantaneous. She left me with my dad a couple hours after my birth, not even taking the time to name me. That was left up to my dad, so he called me Rose Daniels. I didn't even get a middle name.

Did my dad want a kid? No. did he want my mom? Yes. Perhaps that's why I tortured his mind so much. I was a spitting image of my mom, from my curly black hair to my icy blue eyes. Whenever he saw me, my dad was put through the pain of losing my mom all over again. That's not to say that he didn't try to be a good father. He did his best, and we got on.

When I was twelve, everything changed. My dad never got over losing my mom. I had been working for three years to support his therapist visits. Despite that, he was a very troubled man. It got so bad that he had to see his counselor every other day. But it didn't do any good. A windy September afternoon, I came home from school to find my dad sitting in a chair, clutching a picture of my mom and a pistol. He had shot himself.

I grieved intensely afterward, but it wasn't all for him. It seemed that something inside of me died, and a few weeks later I slipped into depression. Now, I was the one seeing therapists. However, as much as they tried, they couldn't help me. To every single one I asked why someone commits suicide. We both knew the answer. You kill yourself when you think that you have nothing to live for. Apparently, I wasn't good enough to make my dad want to live. Failure number two.

When no one could help me, I turned to a fake happiness to go on. Many times I was kicked out of foster homes because I used. What started with pot soon progressed to cocaine and meth. I knew I was killing myself, but I didn't care. I thought that I wasn't good enough or worth it to be helped. That thought made me drop out of high school. It made me reject every foster home sent my way. And, one evening when I was seventeen, I made me pick up the knife.

As I looked into the reflective blade, I saw my dad, cold and lifeless. It was his suicide that made me feel inadequate and unimportant. His death showed me that I was meaningless to him. Well, now my life is meaningless to me. One cut, and it will all be over. I won't have to feel incompetent any longer. If I'm not good for the world, then why live?

A thought flashed across my mind as I held the knife up to slit my throat. Because my father didn't think life was worth it, he passed his beliefs onto me. And, I could pass them onto someone else. What if, somewhere, there's a person who needs me to live? What if, not today or tomorrow, but someday I am supposed to stop them from killing themselves? I could condemn myself, but not someone else.

The knife dropped from my hand, and I backed away from it. There was someone out there who needed my help, and I was going to be there for them, to stop them from making the mistakes I did. They had to know that in spite of what others said or did, they mattered to the world.

It didn't matter what my dad thought of me, because I made the decision to live. Right then, I was good enough for one person: me.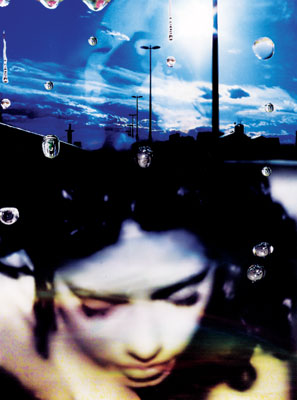 © Becky F., Sacramento, CA