I Can Do It Myself!
April 23, 2009
"I can do it myself!" she yelled, jumping again, and just grazing the branch. "I don't need any help!" She bent her knees and jumped, finally gripping the branch. She grinned, pulling herself up so that she was sitting on it. "HA!" She looked down at her friends, "Come on Becki! You next!" Becki buckled her knees and leaped, black hair loose over her shoulders. Leah helped pull her friend up and they high-fived. Andrew, determined not to let Leah and Becki upstage him, leapt onto the branch and stood up on it. "You're such a show off Andrew," Leah said, sticking her tongue out. She stood up too and started climbing hand over hand until she was about 30 feet above the ground. She stood on the branch looking down. Andrew was right behind her, but Becki was about 10 feet below.

"Wait up guys!"

"Hurry up Becki!" Leah shouted back, climbing again. Andrew growled.

"Slow down Leah, I can't keep up."

"That's why girls rule and boys drool!" her ten-year-old voice sing-songed the line over her shoulder, straight black hair shining red in the sun. Andrew pulled himself up higher and ahead of her. Leah growled back and climbed ahead.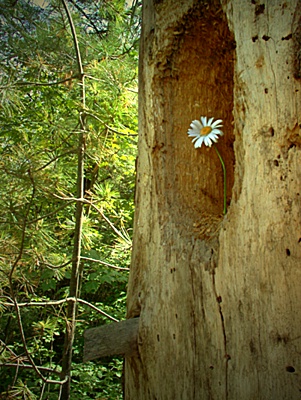 © Anna R, Sudbury, ON, Canada