Finding Peace
April 23, 2009
I walk down the cracked sidewalk, worn down with the soles of so many shoes, walking briskly here and quickly there for an infinite number of reasons. I don't have a reason for taking this route. I know where I will end up, because I always do.


Cars speed by, great monsters born from a huge, mechanized factory. I can't help but feel as if every car that goes by contains a person that looks at me, that can see what I'm doing while I can't see them. I self-consciously look down at my pink rubber flip-flops, dark wash denim jeans, and purple shirt with holes at the hem that are a result of my cat's over-enthusiasm. I guess I look all right, but does my outward appearance reveal anything about me to those people in the cars? Probably not. I push the thought out of my mind.


I turn my attention to the buildings I'm walking by. The steak house where my grandpa took me when he visited six summers ago. I refused to eat the steak because I couldn't help thinking of the poor animals dying. Now I watch the smoke drifting lazily out of the restaurant's chimney, and I would do anything to be able to go there with grandpa again, even if it meant eating gobs of meat. He died just three months after we sat across from each other, me sipping a soda and him eating my steak so that the sight wouldn't upset me. I nudge away the sadness that I feel creeping up on me, and force my thoughts upon whatever I see next.


Next to the steak house is a Rite Aid pharmacy, open twenty four hours, and home to the crème de la crème of my city's drug addicts and alcoholics, who pace the perimeter of the building with unwashed clothes and eyes that are bloodshot and wild like an animal's. As I pass, I make eye contact with some of the more obvious addicts who are lurking under the shadows of the awnings, as if trying to avoid all sunlight. For a moment I feel as if I am sucked into their world, where the city presents itself not as a plethora of shops and entertainment, but as a jungle where they are both predator and prey. But then I break eye contact and continue on my way, crossing the crosswalk to the tune of a shrill beeping sound, and finally making it to the park.


I pass the park's playground, glancing at the children who run on adorably chubby legs and pay rapt attention to a street performer who is making animal-shaped balloons. I remember when I used to be one of them, oblivious to the ugly side of the world. Soon I am in the emerald grassy expanse that surrounds the duck pond. The grass is studded with wandering ducks who call out to each other and casually comb the ground for food. I am struck by a sudden desire to be a duck, to have a life of swimming and foraging and sleeping in the shade of the towering trees. But I settle for just relaxing in their world for a little bit, and I lie down on the earth beneath a majestic oak tree.

I close my eyes for a moment, then open them to soak everything in, forgetting the troubling thoughts, insecurities, and sights I have experienced in the world outside this serene oasis. The tree's foliage casts a dappled shadow on the grass and on my body, and the sunlight winks at me from between the gently swaying leaves. A lukewarm breeze trails over me, filling my ears with the sound. I gratefully drink in the shafts of sunlight, the smell of grass and moist earth, and the soft sound of the ducks. I am at peace.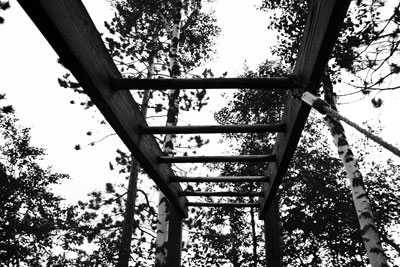 © Sara F., Cannon Falls, MN