Nothing for everything
April 21, 2009
It's interesting, what Lady Life had prepared for me after my illness: bronchitis is not an easy thing to keep with and school debts are still to be passed – reciting extracts from Virgil's Aeneid is the greatest pain for my nerves ever. Latin teacher is a … no, no swears, just enjoying life as a whole thing and I'll just try to concentrate on it's positive aspects our existence consists of. I'm just praying for Draw and Paint class to come into reality again so I could melt in that atmosphere... I am drawing pretty fine for this area and I am constantly asked to do this's and that's: I'm making view I am bored with that but indeed nothing for my self-esteem then people saying I'm their last hope. Most of them are lying though: I am a "Yes-man" and it's known I will never say "No" as well as making the others think it's out of my abilities.
"Can I take a seat?", - I heard a voice.
"Certainly, you can."
It was Ludmila, the girl I got acquainted a few days before: earlier I just was afraid to approach her as being afraid of the opposite sex. But people's perceptions and character change and I am not the instance.
"There is one story I want to hear you"
Ludmila started.
"Yesterday my boyfriend came to me and showed the other man: he told me that the guy I was introduced to had to show me one thing. Believing people is simple for me and I began experience doubts just when we were approaching man's house – not even when he went without me. But I tried to assure myself everything was fine and nor let them to capture my mind ".
It was no doubt that something was going different from the scenario I was prepared to. Romantic intimate atmosphere, candles, roses everywhere – something must be wrong.
"I want to hear the truth! Why am I here? What does all things happening mean?", - I cried out.
"You really want to hear the truth?", - the man responded. You want it – you get it. Your boyfriend's passion is playing cards and you know he can't stop when he loses. I am playing bridge perfectly… if you know mathematics well enough, you can count what are the cards I other person's hand. It is my method and I was who developed it. How? It does not matter. So I won… and as your boyfriend had nothing to do but propose a night with you. He did not hesitate too much, though, so he is an idiot to sell such a beauty for such a cheap prize. You cost much more. '
I was burning from inside, my boyfriend's greediness destroyed those ideals from inside. Hypocrite, Wannabe friend, 13th disciple who betrayed me for nothing!
But the survival came from I did not expect. He, who revealed me the truth, started hypnotizing my mind by his words:
"I know the effective remedy… Relax so I'll be able to help you… For friendship… The place you'll be living in is called the Valley of Happiness…
I took the pill and swallowed. The guy did not lie: they are earning millions on those wanting to find the exit. I started taking drugs to feel the pleasure, but then I had to take it so my body does not ache so much. It is a long story…
"What was the benefactor's name?", - I asked, feeling like in vain. It seemed that everybody ceased to exist when me asking this question. Just the coffee smelled more then usual; that shows how life is.
"Grigorij, he is studying at our school", - Ludmila said.

If looking just once at Grigorij, he could seem an intimated unwieldy guy, knowing nothing but studying. But it is just for the first sight. Half a year ago Grigorij came to our school; soon most of the schoolguys began calling him "four-eyed" for the glasses he was wearing, intelligent manners were a subject of masked envy too as well as the best records in his mathematics school for gifted children for the last five years.… and that leaded to disrespect. Malicious gossips were talking that when the child was three, his father was run over by a car. Small kid saw his father's death and something had changed in his life…The mother of a boy started drinking, and since her bosses did not rid of her just out of pity to her little boy. The woman sold the clothes and all the things, which used to belong to her husband – though dead husband was meaningful in her life, from now on drinks became the lords of her life. The only thing left was the jacket. Shabby, with spots on the chest, it must have been the dearest thing to Grigorij.
Whatever, Grigorij was not just listening – caustic, biting, mordant, this guy was rushing on those, who laughed on him, like a kite on his victum. Just Mephistophel – everything is said just by the name…
"Watch, he is coming" - Ludmila whispered, with her hands sticked in the wooden table. Girl was being compressed from inside, which could be easily understood by the sound of her voice. "It is the way he is walking the whole week".
I was ill for pretty a long time, that's why I had not seen him. On his neck there was a golden chain with "I am the King" words, fancy devil. But still with his father's jacket…
Bell rang.
"See you tomorrow", - Ludmila nodded with her head и and even tried to smile. "See you tom-mor-row", - repeated Ludmila, breaking the sentence into tacts "Go-od luck for tom-mor-row's day".
I wanted to say her something… but I forgot, forgot… But tomorrow I'll tell her...
Oh yes, I have that drawing contest tomorrow…


____________

I was standing near by the scene with my paintings with my heart beating like insane – for something was going wrong and, unfortunately, my intuition did not let me down this time. The message came to my phone.
"I know you just for a few weeks, but for that period of time you have become for me more than a usual person"
Something cold was scratching my heart…
"Jump out of the window and end that monotony and sameless of movements? Blood and suffer, even for the second – I don't deserve it. I have taken a pill and I will fall asleep, I hope for forever, because I don't want to feel that pain and be ashamed. Thank you, friend, and your angels be with you"
I did not care about the contest any more, because it was the other priority for the moment. I was running as fast as I could, I was running despite falls. I was running despite I was tired… I am asking just for one – for the life of the girl, she should feel wind's beat in her face and be catching the butterflies!

The same thought was striking in my head:
"It does not matter how it comes to your mind: even if a person comes to the pharmacy and has a though – "I want to end my life by swallowing all these pills" … go to the oncology centre, where children are cured Look in the eyes of those children, which are fighting for life… and who knows, may be you will sober up. There are different situations in our lives, but the only thing left is to do believing. Dark stripe will pass… and Lady Life will show us a white one…"
The only thing I am asking is being in time… in time..,


_____________


Grave stone. There is a photo on it, Ludmila's picture. Strange… why is "Ludmila" translated as "liked by people"? If this girl was loved by people, may be it… in some way… possible… Compulsive, fixed thoughts are defeating me as a whole. Or it's just silent misery and Morpheus is joking with me? His charms don't let anyone behind.
"Rest assured" – pine branches whispered to me.
"That is lonely sedateness. But in your soul there is place for calmness and mercy…" – flowers were talking to me.
Calmness and mercy? About what calmness and mercy are they speaking about? You get up and try to get rid of that dirt off your clothes, your aim is to understand what had happened. Suddenly, you notice your death. Your funeral, your folks' hypocrisy . You close your eyes to beg for mercy, crying out the testament: "Alive!" – that is everything that means to you, at least in this moment, but the moment is eternity. You are given one more chance to live and you are forbidden to lose it!
But all was broke off by Mephistophel. He put his hand on my shoulder: his father's jacket was on him.
"I know the effective remedy… Relax so I'll be able to help you… For friendship… The place you'll be living in is called the Valley of Happiness…"
"The Valley of Death! "
"Let me refresh a few lines in your memory", - smirked Grigorij. "Goethe is my favorite writer:–
Who can tell: the four winds know the circumstance.






A lovely girl there took him on,
As he, a stranger, roamed round Naples:
She gave him loyalty, and loved the man,
And he felt it so, till his last hour fell."
I was feeling my legs like they were wooden, but stopping because of weak legs is a lame excuse. If I don't help at least one person to get away from this hell of perfidy, horror and sollen souls, how will I continue my life, how can I continue calling myself a caring human?
I had said everything I wanted to. Amen!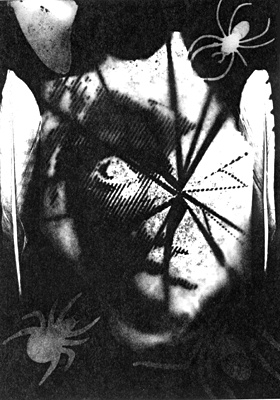 © Lindsey V., Aberdeen, SD