Four O' Clock
February 16, 2009
It was a brisk autumn four o' clock. The right kind of breeze enveloped her as she spent time drowning in a deep ocean of thoughts. She looked at the rolling hills as the sun slowly escaped to its favorite spot, nestled in between the large fields of emerald. Looking at the strange array of houses scattered upon the hills, a pleasantly cold gust of wind bestowed a home upon her. Reaching into her pocket, she lifted a key that had her name on it: Mia R. That key opened a portal to a different world. Mia plopped down on the cement octagon and took in the inviting view.
The towering trees were her guardians that watched over her every move, joy, and sorrow. The hills, the grass, and the weeping willows all took Mia in as if she was their caterpillar, ready to become a butterfly at any moment. She grasped the key tightly in her hand as the scent of copper mixed with sweat arose into the air. Golden leaves blew around as the trees stood nearly naked and lifeless, losing their splendid colors, but this did not discourage Mia, for they would have life again in spring.
This moment gave Mia confidence, courage and clarity. She looked at her mud-stained shoes as she pushed up from off the ground and dusted the dirt from her cobalt jeans. Watching the clouds pass slowly by made Mia happier even though she missed the azure skies in the summer. She bent down and opened a zipper on her backpack, the sound disturbing the peaceful and natural setting. Placing the key inside the pouch with the toothbrush, she saw a butterfly land on a flower. The butterfly sat, mocking her. Bursting colors, freedom, and the ability to fly away made Mia jealous of the butterfly.
Mia looked down at the house closest to her. She remembered the front door, opening to both blissful and woeful memories. The times of immense depression or of colossal delight made her remember that she had a choice: go to the house or go away.
With that, Mia ran.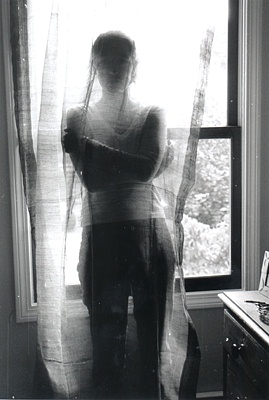 © Cerys W., Marblehead, MA