Lost and Not Understanding
April 25, 2018
There have been so many different decisions I have had to come to throughout my life, but I have never faced a decision in which it would be the this effective. In the recent years, King Louis XIV has allowed us to choose who we wish to marry. I think this is wonderful because I have met a sir who is fantastic in many aspects. He and I have known each other since childhood, and I have always been interested in him, hoping that he would eventually pursue me. His name is Harold, and he is talented and not only athletic, but he is brilliant with science, math, and all of the other studies that he wishes to do.

He invited me to a ball yesterday, so now I am getting dressed and preparing myself to freshen up. I put on some light red blush, and a beautiful dress that my mother gave to me. I walked outside, as the evening was beginning. A carriage arrived, and was going to take me to the ball where I would then meet up with Harold.
When I arrived to the ball, I stepped out of the carriage and Harold still had not arrived yet. I was getting nervous, but stayed quiet and waited. Eventually, two and a half hours had past and it was quickly becoming late, with no signs of Harold. I just stood around the side of the hall, and then I spotted a man walking towards me. I thought he was possibly a friend of Harold's coming to tell me if he is coming or why he is late, and then he began talking and I realized otherwise. He was tall and attractive, with bright green eyes and brown hair that fell nicely around his face. He asked me what I was doing, and I replied that I was waiting for a date. Conversation fell into place naturally, and with time I found out that we both have a lot in common, and that his personality is unique and he was also quite talented. I wished that Harold had been there at first, but maybe we would be better off by just being friends anyway. The man introduced his name as Anthony. He invited me to come and dance with him, and in the moment agreed.

We had begun dancing and were having a pleasant and nice time, and then I see out of the corner of my eye that Harold is dancing with another lady. I immediately felt guilty, and also hurt at the same time. He spots me and walks over, and asks what I am doing spending time with another man here. I said that I had been waiting for him, but he never appeared and so I decided to agree to Anthony. Anthony and the other girl were standing still, watching Harold banter with me. Harold said that he does not wish to continue being close friends with me, and that our future would have no potential. I did not want to cause a scene and so I restrained myself from calling him a hypocrite, and told him goodbye.

I went outside, and waited for my carriage to arrive and then take me back to my home. When I got back, I decided that none of this mattered, and cried a bit, but once that was over I stopped worrying because life is not really worth stressing over.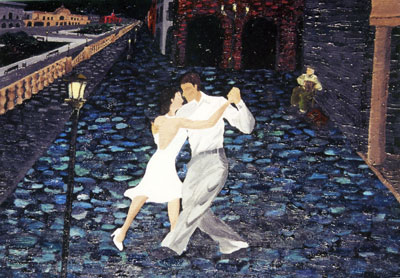 © Elizabeth M., Kannapolis, NC