A life dreaming of death
July 1, 2017
As the clock hits 12, I get to exhale. My body burns under the heat of others, with sweat pouring down, over the cracks and ridges of my skin. As the lines between life and death merge, there seems to be no hope. Life seems to be a blur of repetition and control, with no freedom in sight.

I sit down giving time for the shock to pass and the pain to settle. As time ticks along, the pain just grows, bringing lucid nightmares of yesterday and the day before that. There seems to be no beginning to my story, just torture. Each day feels like the last with no change but the levels of pain. As the suffering gets unbearable I join the chorus of screams, the screams of the tortured, the condemned. Tears gush out until we just wail into the night hoping that somebody, a messiah, will listen and bring us mercy.
The wind caresses my wounds with its gentle but cold touch. Its healing effect send chills down my spine. I try to cover myself with the bare rags that I call my clothes but to no avail. Well, in reality it is almost facetious to think I have clothes, for there is just an opaque piece of cotton separating my shrivelled body from this world. Alas, I have to make do, for I have no other possession, just this piece of comfort and my thoughts.

I crouch in my area, dreading the next day, for I know it will be like today. My energy seems to just wash away with no indication of returning. Swamped from a hard day of work, I reach out to the pile of rotten food presented to us. Taking a bite of an apple thinner than me, I savour the taste, each bite bringing back memories of a better time. Its sweetness cannot be compared, for I have nothing to compare it with. I try to memorize the flavour, storing it in my empty brain to remember the warmth, the love that this gnarled piece of fruit can bring. Maybe this memory can keep me alive the next day, for there is nothing else that I can do to keep myself awake in the world of the living.

The boat lunges from side to side, tickled by the waves below it, in pitch darkness. A single ray of moonlight falls in this prison with no warmth or affection. Tears well up in my eyes as I try to make out what is it like outside. Having forgotten the love of the sun, I long to see it once more. I wish to bathe in this mellow, comforting rays, running across fields of grass and flowers as colourful as rainbows. That is what freedom represents, that is what should be entitled to me.

Stuck in never ending loop, I wish for something to change. This monotony has left me in a fugue state of fear, worry and despair that I cannot escape from. Pain and misery are feelings that have become extremely familiar, with no indication of happiness. My mind creeps towards insanity inch by inch, day by day. Craziness, seems inevitable with this repetition as my masters push me over the border of no return. It is sad to think that I will have nothing to leave this world, nothing to be remembered by. I would just be another person who died. Work hazard they would call it…

There seems to be nothing but emptiness in this useless drivel of a life. I belong to someone who thinks I am expendable, who knows I am. Am I supposed to work for the rest of my life, for a person I don't even know? What is my purpose in this world? Is my life so meaningless?

As I lay down, closing my eyes from this punishment, sleep beckons me to leave this hellish nightmare, to give in the to the luxury of rest, as little as it may be. And just before I fall into the soothing hands of nothingness, I can't help but wonder: is life worth living?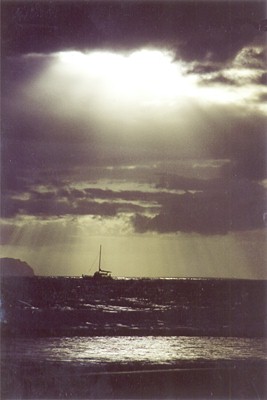 © lily H., Kekaha, HI