Through the Window
June 2, 2017
It was a few minutes past noon. Nobody was around. Lee slowly walked down the sixth floor hallway just in case someone was there he didn't know about. He made his way down to the end of the hallway and turned into the room on his right. He moved the boxes in the middle of the room and looked at the rifle he had sitting under the window. He moved the boxes back and sat down looking out the window, but no too close. There were many people lining the streets awaiting the president's arrival. Lee slouched in the chair and put his foot on the rifle, his foot tapping it.

A few minutes go by, more people begin to crowd the street. Contemplating his decision, Lee let out a sigh. Just then he heard a rustle then footsteps coming from another room. Holding his breath, he sat as still as he possibly could. He started shaking out of desperation. The footsteps appeared to be headed in the opposite direction. Soon enough he could tell that whoever it was went downstairs. Letting go of his breath, he sat straight up. Lee could have sworn he was the only one up that high in the Texas School Book Depository. He began wondering if there was anyone else up there with him, then realized if there was anyone else chances are that they would have talked with whoever the other person was. Feeling more relieved, he loosened up and stared into the crowd.

After several minutes of heavy heart pounding, he heard a motor off in the distance. He looked up over the crowd and saw the president's motorcade. He reached down, picked up the rifle, and loaded it. The car came around the corner and Lee could see the president waving to all the people. Lee held the rifle with the end sitting on the window. His heart was pounding faster than it ever had before. He lined up the shot and fired. He missed because he was shaking too much. The people were screaming. Out of fear of failure he quickly shot again. The bullet ripped through the president's neck. Lee was about to get up and leave but decided that now he was this far in he would finish the job. He quickly shot again and hit the head. He put the rifle into his bag and walked away desperately. He couldn't help but wonder if he made the correct decision or not. However, what was done is done. There is nothing worth wondering about. He just had to live with it.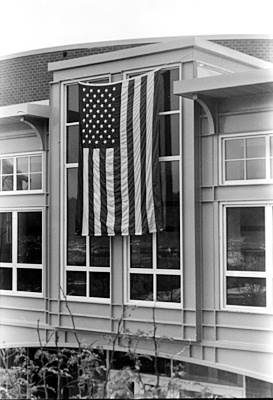 © Chuck K., Marblehead, MA