Victory!
April 1, 2017
Chapter 1
Thursday, December 26, 1776
(In the morning, at camp)
"Everyone! Gather 'round!" I yelled to the army.

"Tonight we will change the war!" I shouted after all my generals and soldiers got in their lines.
Today is Christmas and tonight we will attack and capture a garrison of Hessians. If I don't do something quickly, our army will fall apart. We've been in a poor condition ever since we made camp in the Pennsylvania. I know we are short of supplies, food, and ammo.

Back in August of 1776, the British chased us out of New York. They overran Fort Washington in Manhattan in November. The British took 2,000 Americans as prisoners that day.

I have led my army across the Delaware River and camped here after they chased the Continental Army across New Jersey. Up to now, we've been short on almost everything.

But not anymore, we will turn things around because I have a plan.

I planned an assault on the Hessian garrison in Trenton. The plan is actually a three-prong attack. Colonel John Cadwalader will take 1,900 men as a diversionary force, a blocking move of 700 men under General James Ewing's control, and the rest of the soldiers will come with me.

"When can we start?" Colonel John Cadwalader asked me.

"At midnight," I answered him.

Then my small army and I separated and spreaded out in different directions to get their things ready for tonight.
Chapter 2
Thursday, December 26, 1776
(Midnight, at the Hessian garrison)
The time has finally come for us to pay the Hessians a little visit.
I was all ready and so was my army. I gathered my men and cannons ready to cross the icy river.
"Are you ready?!" I asked my soldiers.
"Yes, Sir!" they cried out.
"Then let's go and win this battle!"
We crossed the Delaware in boats and began our nineteen mile march towards Trenton in the freezing storm.
Crossing the Delaware was very difficult even though we had boats. When we were almost near our boats, the drizzle turned into pouring rain. As we crossed the Delaware, the rain turned into a snowstorm. This made it harder to travel because we couldn't see anything.
Many of my men had no jackets for warmth and no shoes, so they wrapped their feet in rags while walking through the snow. Some couldn't walk anymore and were about to give up, but I encouraged them to keep moving forward.
"C'mon everyone!" I said. "Do this for your families and yourself. We have to win this battle for our family members to be proud!"
This helped a lot because after I said that, they kept moving on forward without stopping.
As I approached Trenton, I divided my soldiers. Some of my soldiers went with General Nathaniel Greene and General John Sullivan. In the meantime, Colonel Henry Knox fired cannons at the garrison.
We surprised the Hessians with a surprise attack. They spilled out of their house to turn on the cannons, but they were overrun.
The Hessian force's leader, Colonel Johann Rall, tried to reassemble his soldiers, but was shot from his horse and fatally wounded. The Hessians quickly surrendered after their leader was shot.
We were able to capture about 1,000 prisoners today.
When I got back to the camp, I asked General James Ewing and Colonel John Cadwalader why they didn't bring their soldiers across the Delaware to Trenton.
"We couldn't get through the ice Sir," said General James Ewing.
"Sir, what he said is true," Colonel John Cadwalader chimed in.
"Alright," I said. "I believe in you."
"How was the battle Sir?" James asked.
"The good news is we won the battle and took some supplies," I replied. "Bad news is that few days later, we will have another battle with the British. So now hurry and get some rest before the battle."
"Yes Sir."
Page 2

Chapter 3
Wednesday, January 1, 1777
Thursday, January 2, 1777
(Morning, in Trenton)
My force of 5,000 men massed in Trenton today.
Even though they were all poorly trained, I have hope that our next plan will work out just fine like the rest.
"We must fight with all our mights tomorrow because we must let Cornwallis think that he have us trapped." I told my army.
"Why should we let General Cornwallis think that he have us trapped?" one of my generals asked.
"It's because this way, he would back down for the night. This way, we could have enough time to sneak out of here and reach Princeton just when he wakes up."
The next day, Generals Charles Cornwallis arrived with his troops of 5,500 soldiers.
"Commander Officer George Washington! I prefer you surrender now before it's too late!" Cornwallis shouted across the battlefield.
"Never! My army and I will fight until the end!" I replied.
Almost at the end of the day, Cornwallis finally relented back to his camp.
I overheard him say, "We have them trapped now!"
"Yes!" I thought. "He actually thought we were trapped! Now my plan will work perfectly!"
My plan was to march north to Princeton at nighttime and leave 500 men behind to keep the campfire going tonight.
Now I can finally can put my plan to work.
Page 3

Chapter 4
Friday, January 3, 1777
(Dawn, in Princeton)
When I got to Princeton, I sent a small force under Brigadier General Hugh Mercer's control to destroy a bridge.
Unfortunately, he encountered some British. General Hugh Mercer was shot from his horse and fell off. He was beaten down to the ground and was stabbed seven times with a bayonet. He was killed in the fight with the British, but that didn't stop us.
The Continental Army assembled and broke through Mercer's lines.
Just like in Trenton, we took prisoners and supplies but quickly retreated back as soon as possible.
We won both battles at Trenton and Princeton.
After the two battles, my men and I marched to Morristown where it is safe from the British and to stay for the winter.
"My brave fellows, you have done all I asked you to do, and more than could reasonably be expected. But your country is at stake, your wives, your homes, and all that you hold dear. You have worn yourselves out with fatigues and hardships, but we know not how to spare you. If you will consent to stay, only one month longer, you will render that service to the cause of liberty, and to your country, which you probably never can do under any other circumstances. The present is emphatically the crisis, which is to decide our destiny." I said to my army before they could leave the army to go home.
And almost nobody left to go home.
Page 4
The End


Page 5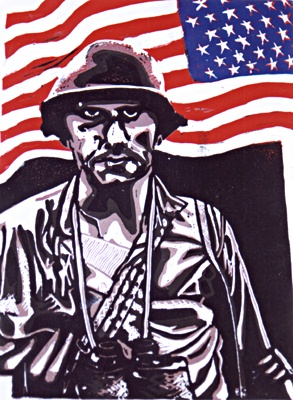 © Troy W., Kannapolis, NC