Five days till death
February 23, 2017
April 25th 1945
It's only been five days since the battle for my capital began but it already feels like eternity. The sweet sense of victory has already transformed into a vague thought that cannot capture its true nostalgic taste that brings a shadow of happiness into our lives. These days my soul feels like an anchor that is submerging me in this abyss of sorrow, preventing me from swimming to the shore of revelry and bliss. The heart of my country is under attack and so is mine.

Unfortunately the Lord has gifted this land of ours with a premonition known as defeat, a true aptitude of failure that clings to our bodies for a lifetime. An aptitude such that it can bring a man even like me, to his knees. Poland is lost to the Soviets and France is long gone away from our hands. Enemy forces have driven me to this lowly bunker and have breached the walls of Berlin. The Soviets tore through our front lines on a day I have begun to regret, the day of my birth on the 20th of April. Proclaiming it as a gift to my jubilee, the vermin Soviets bombarded the roots of my empire.

I feel like the time has finally come to lie down and admit defeat. Day before yesterday, I at last asked my physician, Dr Hasse about the most impeccable method of suicide; but is this the befitting end for me?
April 26th 1945
Death has begun to surface like a natural feeling, as the boundaries between insanity and logic crumble much like my ego. However, a small seed of doubt is growing, at the extreme end of my mind, sprouting its branches to form a great tree that could be the end of my suicidal thoughts.

Today the good for nothing Soviets have pierced the suburbs, taking over Tempelhof Airport and have neutralised the might of our air force. Nevertheless, a small ray of hope is beginning to emerge from the ashes of devastation. The Müncheberg Division of the force will retaliate against the dirt known as the Soviets, possibly bringing back the light to my eyes. A beautiful flower of hope has begun opening its petals, for a day of retribution is at hand, bringing the nectar of victory back, to the Führer.

Today the battle between lunacy and sanity is a draw and a victory could favour the side of logic. Nonetheless, the feeling of death remains woven in the fabric of my mind. It's really not that hard to find cyanide.

April 27th 1945
The flowers of hope soon burn away as the flames of defeat, envelop its petals, bringing the sinister feeling of death back to my mind. Hope is dead to me.

Alas Berlin could not be defended by the meagre troops we had. If the heart is gone, the empire will soon perish, much like my soul.

The capital may be cut off from the federation but the Führer bunker, where I lay devastated, still slumbers, safe under the ashes of the great city. The battle of Berlin is still waging where unfortunately victory never favoured my side. With this, my plan of suicide has already unfolded. The first stages are cleared. I have already told my valet to bring rugs and enough petrol to burn two bodies. Maybe the shackles of death could pull me away from this nightmare.

For these last few days, it feels as though the gap between my heart and mind has begun to shrink, making me discover what my terminal wishes and feelings are. The route to my final destination has already been charted and I don't want to travel alone. I think it is time to buy that ring for her.

April 28th 1945
Anger is a very interesting feeling that is natural to me. A feeling so real, exerting a force on every cell of your body. A feeling so true, that it is able to bring a man to show his real barbaric persona. A feeling so refined, that it portrays the devil within your soul, showing how it laughs in the face of martyrdom. And today I felt the full force of it.

As the embers of anger grew into an inferno of madness within my heart, I shot Heinrich Himmler through his.

It felt so good!

A copy of a message regarding my military commander offering to surrender to the western Allies was brought to me. He got what he deserved. My wrath is something that is not to be toyed with; needing only a spark to erupt into a mangled concoction of molten lava, which can reduce anything it touches to ashes.

Today the people around, learnt that the fire within me has not been extinguished and their fear for their leader will die only with him. However, every cloud truly has a silver lining, as Eva has agreed to get married. Our love will die together.

April 29th 1945
Happiness is an embroiled feeling in my own conceit, whose presence I finally felt today as I took the vows in the holy spirit of matrimony. Love unfolded bringing all its warmth, mesmerizing me with all its ecstasy. Alas, this exuberance, much like the kindness of the sun, dies at dusk in my heart, bringing back the sorrow that lay disguised under my passion for the wedding.

Like every coin has a flipside, my treasured day did have its ruination. The news of Mussolini's death, my ally, sent shivers down my spine, making me show a flash of weakness to the world, a feat very rare. Does even this penumbra of happiness have to vanish so soon?

My will and testament is ready and in the eyes of those I have consulted I am already dead. I am ready to die with the empire. However, the question still remains, will I take her with me or will death do us part?
April 30th 1945
The boom of the canons seems to be the loudest this morning, ringing in my mind, making me give up. It's time to go to a better place, a place where I can feel the warmth of sunlight and not be trapped in the sheer cold of night. Today is the day.

While I sat for supper, at the last meal with those close to me, I wondered how this could have ended differently, if my story was written in a different way, if the Lord had destined me for something lowly like a beggar. Putting aside those thoughts, I sit beside my poisoned Eva who will lay with me till death. The gun is at my right and the cyanide capsule is in my mouth, waiting to be crushed. I guess my time has come. I guess this is goodbye. To the people who will read this, they know that I am going to a better place; a place outside the reaches of war.

Goodbye.

May 1st 1945
Successfully fled to the safe house. Everything feels surreal all of a sudden. For once in my life I can say that I am free. Like a bird reaching for the sun, I have finally unfolded my wings, embracing freedom all the way.

Today my mind is in a state of tranquillity and I can finally taste the beauty of life in all its glory. For now and the many years ahead I will savour this subsistence, and enjoy the solitude, looking at the world in a different way.
This is my last log. Pride can be burnt but Hitler will not die just yet….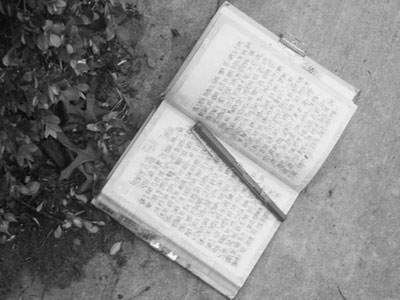 © Quinn B., Lubbock, TX