A Footstep in 1950
MAG
July 21, 2015
It's cold.
A fragile silhouette shivers in a ring of streetlight.
It's heavy.
He grips a well-worn book in his hands as one would cling to a lifeline.
I shouldn't be here.
August 8, 1950, had reduced him to this. He had chosen that day intentionally for his wedding, and everyone knew why – it was the luckiest day of the year in Chinese culture. Just not this year.
On that day, Mao's Communists came for him.
A deceptively innocent knock on the door had come first – only a passerby offering his congratulations, he had thought. But he soon found that that fateful knock was less a gesture of courtesy than a savory moment of anticipation for those outside.
The fragile door burst open before he reached it.
He had protested loudly at first as they knocked porcelain vases and pots from their perches, but he soon became numb to the process. His property he could live without – he managed to convince himself of that until they grabbed her.
Apparently his bride qualified as property too.
When the nightmare was over, he stood alone in the street for a long time, only beginning to grasp the magnitude of what had happened. A lifetime of manual labor and frugality had been a steep hill to climb; they shoved him to its base in less than an hour.
•••
The light from the lamppost stumbles on its way to the ground, shattering his reverie.
He blinks at the book in his hands – it isn't his. Within a week of poverty, he had come across the dusty shop of an inattentive old herbalist who owned dozens of medical journals.
The herbalist hadn't noticed the difference.
If his four older brothers knew about the book, they would have sold it long ago, naïvely hoping to receive ginseng roots in return with which to recolor their fading parents; an expression mixed with scorn, pity, and sadness crosses his face. His idealistic siblings forget that no sensible merchant would trade the rare medicine for a book.
But he has other plans, anyway – education means money.
Too poor to afford a lamp, he now stands shivering under a dim streetlight, two miles away from his family's teetering vegetable booth, clutching his last hope of prosperity in his hands.
He glances furtively up and down the street. Good – no one awake to pity him. Still, he hesitates to open the book. A glint of uncertainty flickers in his eyes, then travels down to his fingers, where flesh and bone are nearly indistinguishable and now tremble.
This is your only chance.
Slowly, steadily, the silhouette lowers himself into the text.
•••
Jeering laughter greets him within – he jumps out of the book and slams it shut onto the pavement, his doubts confirmed.
The laughing comes from the book's diagrams and highbrow jargon, which laugh because they know he had never taken a liking to scholarly study and can barely decipher anything beyond the most basic prose. His doubts had lurked just beyond the periphery of his consciousness for a long time – now, they come crashing through into the limelight of awareness, fully realized.
It's too late.
He collapses in a pile of rags, staring dumbly at the book on the ground next to him – he looks away, ashamed. The book smirks smugly.
Fatigue poisons his body, and he lies still, neither able nor desiring to fight the temptation of sleep.
•••
A light breeze turns around the street corner. It approaches the silhouette cautiously, then tiptoes over his defeated body to the book. It flips through the pages, rummaging for something valuable. The flipping accelerates through introductory information and unprofitable medicine – it hesitates on opium. Then the flipping picks up again and finally pauses on an earmarked page near the back of the book.
Modest ginseng root sketches crisscross the page, adorned with notes for harvesting and preparation. More lucrative hallucinogens, poisons, and herbs protest from their designated pages that such homely medicines are relegated to the back to exist unnoticed. But their complaints remain unheard, buried within the book.
The root sketches detach from their yellowing anchors and meet on the spine of the book's body, joining their arms together as five brothers and their parents used to do every night before dinner; a single green shoot sprouts upward, gently curving toward the beckoning of the streetlight as a young silhouette used to run to the beckoning of his mother after school; venous leaves unfurl and stretch their bodies, as a father used to wake every morning.
A central stalk boasts a clump of crimson berries – a shock of auspicious Chinese red against the fog of darkness beyond the streetlight.
The book's smirk disappears.
•••
Suddenly, he jerks awake. His arm lashes out, then retracts calmly, comforted by the touch of an earmarked page.
There's more than money at stake.
Legs fold and arms straighten, preparing to lift a body. Then, they stop moving. He becomes suddenly conscious of the light of the lamppost, which barely circumscribes his body – a thin protective layer against the night lurking not two steps away.
There's no hope without this reading light.
He turns onto his side and stares out into the darkness.
Out there, I'm a nobody.
In the distance, the sound of glass breaking echoes through the hollow city – a thief. Perhaps a hungry pauper.
That could be me.
He glances at the ginseng sketches, then looks out into the abyss again, now tinged with dawn gray.
But I have a chance.
He closes the book and takes one step toward home – he freezes at the boundary of the weakening streetlight.
The fragile silhouette shivers, then hunches over defensively and crawls back into the world.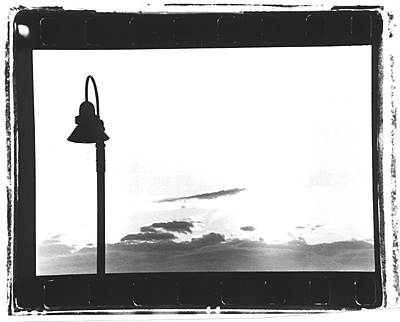 © Chuck K., Marblehead, MA