Incaged
November 4, 2014
  The dungeon was dank and dark. There was water dripping heavily against the dirt ceiling. There were puddles everywhere, and there was no dry spot. The halls were lit by torches here and there. The guard held me tightly and pushed me in one of the cells. I was not handcuffed, luckily. Some suffered being caged and not being able to use hands freely.
  The prisoners saw and heard the guards coming. Some reacted violently - spitting and clanging on the cells, cursing. Others pleaded for freedom, praying and begging  them to be out of this hell. The guards must have dealt with this, for they left without a glance at the inhuman cages.
  I sat in the corner of my prison, though rats swarmed in that area. It seemed dryest there, and rats seemed to know it. I swept the filthy creatures away and seated down. This was where I was to live for the next few months.
  There were others in this cell also. They huddled against each other, and they didn't welcome  me in. I wished they considered this, for this cell was cold. I huddled against myself as I tried to imagine how I was to survive in this cage. 
  The other prisoners stared at me, and I am not sure of curiosity, distrust, or disgust. I was in torn and ragged clothes and hadn't washed. I would, but the guards thought otherwise, thinking that I should be humiliated in this filthy form.
  A man looked at me carefully before speaking. "What are you in for, lad?"
  I looked at the man. If I told him I was innocent, he would believe me to be horrid, for no one believed me. I told them the story how the guards thought of as my case.
  "I was in the market," I began, hesitating. "I wanted to get some food for my family. How could I? For I had only a meagre sum of money. I pondered on this problem before spotting a fat man's gold."
  The man smiled, which didn't seem to match his face. "So you stole it, eh lad?"
  "Yes. I went forward and took the money. I had only gotten a few feet or so before he noticed the money was gone. He spotted his bag on me, so the guards came and took me here."
  The true story was that I was considering buying a few pieces of bread when a boy rushed by me, shoving a bag of money in my hand. I did not see his face, I stared at the money in my hand and marveled how much it weighed. Then the owner of the money shouted and the guards came. I was sentenced to three months in this prison.
  The frail man questioned, "Was that man possibly had the name of Issac Loman?"
  I looked at him in amazement. "Yes. How did you know?"
  He smiled. "He suspected I took his gold also. I was innocent, however, but they wouldn't believe me. I suspect that ye must have not done the deed either."
  I looked away, not bothering to comment the statement. There was no use to answer. They knew I was innocent.
  The next few days in the cages were horrid. We were fed little portions of soup that I cannot define. I refused to eat it, for the smell was unappetizing, so the others took my meal and ate it. But I was getting hungry, so I unwillingly ate it.
  One midday afternoon, the guard let someone in the cage. "M'lady, be careful," he advised. "You are about to enter in the cell of criminals."
  "Don't you worry," said a familiar female voice. "I will be fine, considering who is in there."
  A female woman stepped in the cage. She was wearing silk dressed carefully set up to not touch the filthy floor. She had blue eyes that penetrated throught me, cackling with evil. Her blonde hair was tied in a way that tucked into the huge hat she was wearing, also made of silk. She had lips that curled in an evil way.
  My eyes went wide. She... she... why? "Madeline, why are you here? Why are you wearing such clothes?"
  She smiled. "Oh, Morris, you happen to remember where I was on that dreadful day?"
  My mind floated off before everything clicked together. "You... you..." I stammered.
  She smiled that evil smile and turned out of the cell. "Morris, I hope you enjoy hearing the news about speeding you sentence."
  I was like an idiot, dumbfounded. I could not speak.
  "Oh, Morris," she announced as she left. "In just a few weeks, you shall be sentenced to hanging. Wouldn't that be exciting, visiting Death? Say hi to the devil for me as you leave." She cackled an inhuman laugh as she left.
  The news was so horrifying, I wish I was dead before I heard the news.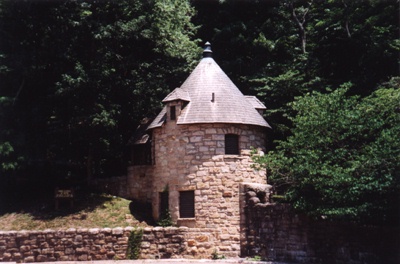 © Josh J., St Albans, WV