Their Eyes
October 9, 2013
Anyone could tell from the not so gentle gestures of Jenny's husband shoving the cup into her mouth commanding "Eat. You have to eat. C'mon." The strong German accent caught Lori off guard. Studying them for a few minutes, not realizing her staring problem, she was amazed and beyond interested, sucked into a whole other world where she was like a fly on the wall. His deep rugged voice brought her to envision the many Holocaust novels she'd acquired to read.
Her flashbacks were blurred by the voice of the nurse on call, "that's Augustus; he doesn't actually stay in this department he just comes over to feed his wife at breakfast, lunch and dinner… on the spot."

She looked at the nurse with just a look; it was as if Lori was trying to figure him out through whatever was behind his deep, dark, mysterious eyes. His eyes weren't a mysterious handsome, but a mysterious lost, like he didn't know the purpose of life, and he was only living because he had to.

"His background is amazing" the nurse continued, "and he will talk about it sometimes, but today it's about time for him to water the flowers… he loves to do that."

As the gentle but disgruntled elderly man cleaned up his wife and gave her a gentle kiss on the cheek he then proceeded to the door with a wave but nothing to say.

In her mind she was confused, wanting to study him more wondering what his deep, dark past was and wanting him to reveal his accent again.

***
It was October of 1940 and we were just about to share Mamaliga, cornmeal porridge, with the whole family.

"Augustus, please go get your father for supper."

I was just about to turn fourteen and I was the oldest of six children, so my mother relied on me to help with the household. On my way down to the shop, which my father owned, loved and was obsessed with and also where he sold his beloved pastries at, I realized that the leaves were changing colors and it would soon be autumn here in Poland. I retrieved father for dinner, as I was told, and then we said grace. That was the last meal I remember with all my family together.

*Knock, Knock* the door began to make a loud bang. My father instructed us to stay in our seats as he got up to answer the loud knocks. Thoughts raced through my mind, we had heard rumors that Hitler had invaded Poland but we did not expect anything to happen. I could hear loud yelling and harsh voices; they were speaking in Russian. My father came back up the stairs with a face that I could never explain.

"We are ordered to shut down the shop and no more pastries are to be made, we are instructed to sew yellow stars onto our clothing, give up any valuables and informed that there would be a new set of rules for Jews."

A few months went by and we did as we were told going on with our lives as usual. As the oldest child I had to take a job to support the family. Jobs were hard to get. The Russians gave the first jobs to poor people and to working people. Because my father was considered a rich businessman he was considered valuable, therefore, I could not get a job.

One Sunday evening in May 1941 we went to sleep. About 5 o'clock Monday morning we heard gunshots and went out to see what was happening. Soldiers were shooting right and left. People on the streets were gone--killed right away; we knew that this was where our problems were going to begin.

It was a going to be a fight for survival. We had to do what the men under the accents and bold faces wanted. If we did not, we would be shot or taken down immediately. There were no newspapers so we didn't know what was going on in the outside world. We just hoped to stay alive and that the war would end before they would do more damage.

This continued until August 1942. One day a Judenrat came into the middle of town. He announced that all the Jews had to take what they could carry and walk the seven miles to the next town of Kraków. There was a thing called a ghetto there and it was to be our new home.

We arrived at the ghetto together, tired, and numb from seeing so many limp bodies in puddles of red blood. Their eyes I will never forget. Their eyes told so many stories, so many stories of fear and confusion, and so many stories that could never actually be told.

We were placed in the ghettos for just a few short months and then it became overpopulated so we were sent to the nearest camp. Even though the carts were packed person to person and had a horrid smell I was just thankful my family was together: but not for long.

Once unloaded into the camp my family was torn apart.

"Männer auf der einen Seite Frauen auf der anderen (men on one side women on the other)"
We went with the gesture due to the fact that no one spoke German. My mother and sisters were together but once my mother wouldn't let go of my father she was knocked down with a hard blow to the head. My whole body stung with anger.
I could hear my sisters yelling, "Mama get up!"

I was pushed forward harder and harder as I witnessed a soldier, who I recognized as my sixth grade math teacher, pick her frail body up and throw it into a pile. Her head hung backwards, blood running heavily off of her like she was looking at me; her eyes were sad and lonely. That was the last time I ever saw my mother.

My sisters were put into a separate line and told to undress. I couldn't see what was going on from the distance but I saw them get pushed into what looked like a shower with other babies and frail woman. That was the last time I saw my siblings.

My father grabbed my arm and told me to hurry up. We were instructed to undress and start running in a circle along with the other men. The soldiers were staring at us intensely, like they were observing our bodies. One by one, men were shot down, so I ran faster. It began to rain and I could feel mud run up my legs. I heard another gun shot that sounded like it could've been me and when I reached the beginning of the circle again I saw my father's body on the ground. I began to weep heavily. Through my tears I could see his eyes, weary and heavy from all our worry and struggle. That was the last time I saw my father.
Because my family was gone I vowed that I would make it. I wouldn't let these putrid men, some fellow friends and teachers even, shoot me down. My eyes would stay open and full of life: no matter what it took.

***
It was lunch time and Lori was hoping that Augustus would be back to feed Jenny. Almost like magic, on the dot Augustus wondered in the same way he left: with a wave but no sound. Lori studied him once again and to her dismay Augustus looked up and their eyes met and it was almost if she could see everything.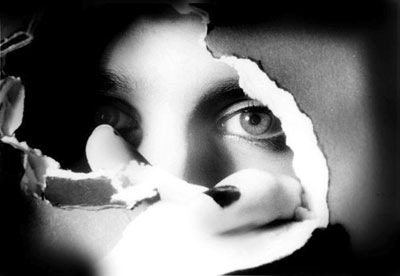 © Tabatha B., Peoria, IL