The Visitor
June 12, 2013
"Can you believe it?," screamed Grandpa William—a little too loud—because he could not even hear his own voice. "The 45th State? Utah? I've never ever heard anything about that territory before! This is a surprise. When I was young, back in the '20s there were only 25 states. I can't believe it! Now, at 86 years old and one of the oldest people I know, and there are 45 states! 1896-what a year!" he announced, gesticulating his hands in the air like he always does trying to convey something that none of us understand. I always savored the time I had with my grandpa. Most kids my age didn't have the same opportunity to be with a grandparent.

"Didn't you learn about the Utah territory back in school John?" I pointed out to my brother.

"No, I learned about the Oklahoma territory, it's not a state yet. I don't think so, at least," he explained.

"The Smith family didn't go to school back when I was a kid. Almost nobody went to school in Albany. We needed to stay home and help with the farms," Grandpa William added.

John is my older brother. He's not that bright even though he's in 8th grade. I have another brother, named James, who just graduated middle school and is in the industrial business. His extra years of schooling have him well-equipped for the new business in the city. Then, there's my sister, Lilly, who is seven years old. She is usually the boisterous one as well as the tormenter. My parents always call her the invigorating one because she always fills the room with energy. She thinks that she is transcendence. I'm the last sibling and eleven years old. My name is Anne. My dad, Charles, is not home too often. He works in a new factory (not his dream occupation as he had hoped to become a celebrated guitar virtuoso). Almost everyone in New York City is now working in some sort of factory or mill. It is the time of the Second Industrial Revolution. My mom, Helen, is the one who generally takes care of me and all of my siblings. I respect her and hope to become just like her one day. Then, there is my grandpa, named William, who is the oldest man in the whole town (maybe the whole state) at 86 years old, but for the most part, has no idea what he is talking about.

Ellis Island opened up right by our house about five years ago. It's a short boat ride away from lower Manhattan. About 12,000 new immigrants come each day and every one of them is from Europe, Africa and even a few from Asia. My family has been here since the original colonies started. My mom told me about our past and she said that we were originally from Chile and moved to Great Britain. Our ancestors were brought to the colonies before there were even states.

"Good news kids," notified Helen.

"What is it?" I responded.

"We are going to have a visitor. Her name is Mary and she is coming in through Ellis Island. She will be the first immigrant from South America, Chile. Chile is going through a hard time right now and she needs to get out of Chile. There is a lot of fighting over there and a civil war is about to break out. She is also my cousin, not an old crony, who I have been talking to through the mail," she informed.
The mail was transferred through the old Pony Express. But, my brother used to joke that the mail travelled by bird. He told me that when the birds migrated South, they brought the mail with them and when they come back up North, they take the collection from the South. When the mail finally arrived it looked very decrepit and dirty. It all made perfect sense to me!

"That's marvelous. When will she be arriving?'' I questioned.

"Next week, so I want all of you to be exhilarated. Keep the house pristine and fix up the lamp that you broke. John, I told you not to touch it, it's ethereal. Make sure you do nothing that could be detrimental!" announced my mother.

"Wait, what?" John exclaimed, almost to suggest that what my mother had just said was indecipherable.

I tried to analyze how this would go over. I'm sure none of my siblings were happy with this. It's not like they should even care. They should feel special. It's not like every family had a foreigner staying with them. In fact, no families did at all. It was unique and exciting. But, some of my siblings (Lilly and John) will not be happy with this. They're attention seekers. I'm sure that if we have somebody coming, my mom will be focused on the guest, not my siblings. We would be disparate from all the other families.

"Uhhhh! I don't want to have anyone. Isn't seven in a household enough?" my thoughts and Lilly's actions were in harmony. She sounded quite flabbergasted.

"Well, deal with it," my mom repeated; her legendary line that each and every one of us kids heard about every day (it gets irksome when she repeats it so often.

"Too bad, she's not coming," John muttered raucously and reluctantly, casting a dirty look right at my mother.

"Good one," my mom responded, simply and eloquently.

There was no fighting with my mom. She was the best in her business. The best in the world, at being a mom. She was strict when she had to be and never lost a battle.
That's how any mom had to be in the 1890s, strict but caring. In a place like New York, with so many people, there was no making mistakes as a mom.

As the week went by, and more and more fighting between the family escalated.

Finally, it was the big day. Our visitor was finally arriving. We took a boat to Ellis Island to meet our soon to be friend. I was ready and excited while the others were not because I wanted to meet somebody not from New York, I never have. With only two minutes until her arrival, a fight was brewing imminently within the family. As I saw more and more people bawling when they entered, I thought what it would be like if I was in their places. Some of them living through wars and some even banished as dissidents from their home countries. There were so many people in such a small area that they must have felt cooped up. A lot seemed to be dawdling, waiting for someone to come for them. With nothing to do, the people at Ellis Island had time to commiserate about their homelands. This was the general motif as I passed group after group, no matter what their country of origin.

"Is she here yet?" my sister berated caustically, knowing she wasn't here.

Finally, grandpa pointed out a Spanish girl with the name Mary on her shirt. We went over and greeted her. She told us about the civil war going on within her country. I felt so much sorrow for her and I couldn't believe a story like hers was true.

She was born in a small city called Taltal in Chile. Her life was good and her family made decent money as farmers. There were no neighbors close by, no worries. She had eleven siblings. In 1887, nine years ago, at the young age of ten, she was forced to leave her home because ten of her siblings and her parents died of the flu. She and her older brother were the only ones remaining and they had to move and make money. They moved to Santiago, the capital of Chile in 1889. It was then that civil war broke out and Santiago was the center of it all. Her brother died in 1891, not in the war, but of diabetes, a cureless disease. She stayed in a small city outside of the capital for the past few years trying to figure out what to do with her life. It was at this point when my mother had first reached out to her by mail. They decided together that Mary would emigrate to America. This was the answer to her prayers.
Mary has been living with us for approximately two years now. She has become a regular in the family and everyone loves her. She loves to help out and has learned how to read and write from us. She hopes to move back to Chile and help people with problems as bad as hers.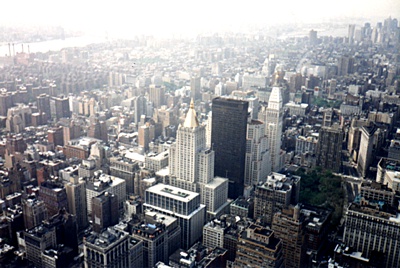 © Kristen L., Wilmington, DE