Why Dogs are Afraid of Loud Booming Noises
April 4, 2013
It was the beginning of World War II as Europe was being plunged into war. A string of dogs had been disappearing and there was a good reason for it. Just as their masters had been drafted into the war, the dogs had either run away from home or been drafted with their masters to become equally good soldiers. They fought in secret against the Dobermans of the Nazi, or in short, DN. When the US was brought into the war, many more dogs joined the fight and had another enemy: the Japanese Akitas.
There were so many casualties in both the human and canine factions that the survivors of the former didn't make the connection. Like the human soldiers, the dogs were willing the risk their very lives for their owners and their countries. They fought in so many battles, some in obscurity and others invisible to actual events. However, there was one battle that remained only known to animals. One that would change how dogs lived forever.
It was near the border of Germany as the Ally Dogs attempted to invade the capital. However, the Dobermans were expecting them, so they built a super weapon. It had never been used before and this seemed like the perfect time to unveil it. The super tank, the BRK-BRK K9, was designed to shoot cannons of a dangerous element that they had only barely been able to control. There was only one super tank of its kind and they were going to use it on the AD.
Just as the AD had entered Germany and was nearing Berlin, the DN brought out the BRK-BRK K9 and struck back. Using plutonium as their cannon, they shot at the AD, but there was an unexpected result. Instead of landing on top of them, the plutonium stayed in the air and exploded in a burst of hot energy. All those in close range and out in the open were immediately killed. The survivors were inside the tank or at least five miles out of range. The tank exploded no less than 15 minutes later, after everyone inside it had been evacuated.
Soon after the incident, the concept of BRK-BRK K9 was discarded. The plutonium explosion made a deafening boom and terrified those who survived that day. They feared that as long as plutonium was around, another plutonium-related incident may rise and result in an apocalypse. Soon, the story was relayed around the world and the fear of loud noise spread. The explanation for that? The story was so scary that whenever there are fireworks or thunderstorms, the dogs always thought that plutonium was being used again and that it was the end of the world. For that, they hid when there was loud noise.
And that's the reason why dogs are scared of loud booming noises.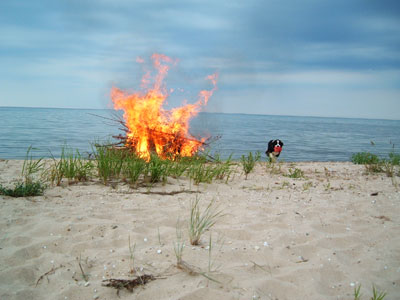 © Hilary L., Rogers City, MI