Nevermore
March 15, 2013
"Virginia,"


Edgar Allan Poe, a man of mystery, sat at his desk with a piece of blank paper in his view. His eyes were wet with solemn tears as he ran a trembling hand through his black hair which hadn't been tended to in weeks. The bed where his beloved wife lay only a few months ago haunted his peripheral vision.

"Virginia, Virginia," he moaned again and again. He leaned back against his chair and wept noisily in his hands. There was no light flowing through the windows nor had any smile dared indent his lips. He was convinced that his mouth would permanently freeze in time and it would wind up killing him in the end.

What would he do without her? His beloved bride of only twenty-five now stuck underneath the cold, hard ground with no air to breathe or any song to sing. She would remain beautiful and young only until she began to decay and rot from the inside out with nothing but a few pints of dust and an unfortunate piece of clothing which would hang from her corpse for eternity.

Edgar got from his seat, scratching his itchy skin, wiping his tearful eyes and clutching his neck with a force he wished weren't so weak. If he wanted to, he could end his life right here and now. But he wouldn't. Not yet. The reason for his clutching, however, was not an attempt to take his own life, but to think of Virginia's. Oh, how she suffered with her broken blood and her frayed lungs. Somewhere in the back of his mind, Edgar knew that she died a tragic death, but somehow he tried to blow it off.

He glanced up from his sleepy stare and glanced at the bottle of whiskey sitting pleasantly on his desk. How tempting it looked. He rushed over and poured the warming liquid down his mouth, tasting its bitter fragrance. There was no such thing as a drug to numb heartache, but the whiskey would do for now.

He collapsed against the wall, sliding down to his knees. There he looked at the bed which held the soul of Virginia. He took another swig, clinging his knees to his chest as the saltwater tears poured erratically down the sides of his cool, pale face.

"Virginia," he whispered. "Virginia…"

Nevermore. Nevermore.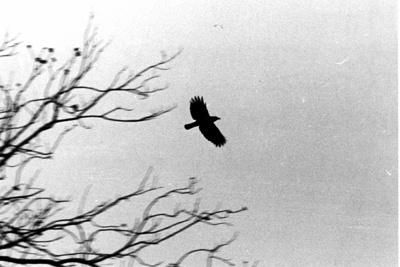 © Jacqueline T., Flower Mound, TX