Potion Shop
September 23, 2012
Yes, obviously, the world changes, the world has to change. But in rare occasions, the world allows certain things not to change. Specifically, a small shop in London. It's never changed over the years; goodness knows it could never change.

The tiny shop that I speak of is a tiny novelty behind the great Buckingham Palace. The little novelty is in the position to be haunting and spooky, although it simply is not. This wonder of London is hidden away in a grungy alleyway. Shadows grace the window and walls on the outside. Spider webs curled in a web of time are hidden in the shadows of the door frame. They are not to be noticed. Years of dirt and grim cover the name and title of the shop and for good reason.

Now you are probably wondering, who owns this place? What does the store sell? And why is it so dirty?

Let me take you back to the rein of Queen Elizabeth the First, a glorious time in England's history. Although the old ways of witchcraft and sorcery were shunned, Lady Elizabeth loved those old ways. She ruled in a way befitting the old way, but never saying that she endorsed them so to speak. The old ways and England prospered.
There was a lady in waiting; Mara was her name. One of the Queen's favorite. She had a beautiful face, big green eyes with silver flecks woven in them. Her caramel brown hair always was woven into a braid, to keep it from her work. And her work was important indeed, very important. For you see Mara was Queen Elizabeth's resident potion mistress. She was the best in all of England. Although she had her own agenda, immortality, she was always loyal to her queen. But she was fierce, she wanted immortality, and she got it. No one knows how it was graced upon her, there are rumors though.

When her queen died, she was devastated, yes, but now the world was open to her. Not only this world, but her eyes were open to the other world, another dimension that lives in London. A mythical world filled with vampires, witches and werewolves, all loyal to light magic of course. So in turn she took this new world by storm. She opened a shop, her dream, behind her queen's palace. Although she had to hide from the prying eyes of London, she was happy.

To this day you can go to London, and if you are lucky and open-minded, you can enter this other world of magic, sorcery and potions. And you can go to a certain alley behind a certain palace and go to a certain shop that is famous throughout London. You'll find Mara there to this day, behind a cauldron with a smile on her face and her hair in a braid. To be truthful with you, the dear reader of this manuscript, you could not have stumbled onto a better shop.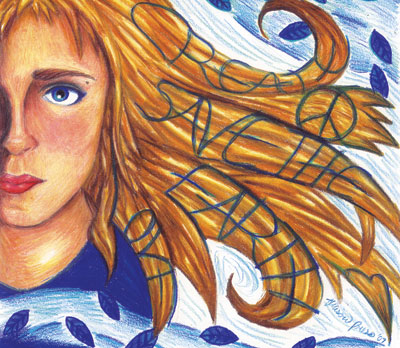 © Allison P., Chapel Hill, NC