Captain Keith
September 20, 2012
Oh, Maria! Keith McMalloy drank in the sight of his beautiful brown-haired, blue-eyed wife. Since Keith first laid eyes on Maria back in 1957, when he was only twenty-three, he knew he could never love another woman. Keith was paralyzed by the sight of her slim, feminine figure—with the exception of her swollen belly—and her glowing complexion as she chased after their five-year-old daughter, Ava. Ava's sweet peals of laughter brought an even wider smile to his face. The blonde-haired cutie had the perfect mixture of Maria and Keith reflected in her soft, delicate features and, again, Keith was mesmerized. Scanning the landscape, he thanked the good Lord above for allowing him to be so fortunate. His beautiful wife, his adorable daughter, the precious new life blooming within his wife, his farm, the wonderful community . . .
*



*



*

BOOM! Rat tat tat tat! BOOM! Boom, boom, boom! Keith's eyes fly open as he jumps to a standing position, glancing around for his wife and daughter amid the ricocheting bullets. One glimpse in front of him brings him back to the reality of his life since 1967. His wife, little Ava, and his new baby girl—whose birth he missed—are waiting for him in Texas, trying to run the farm without him while the government keeps him fighting in the Vietnamese rainforest. Ambushes were a normal occurrence during the Marines' marches, but this was the first one to erupt during the eerie silence of the night. Reacting quickly, the soldiers grab their weapons, but ditch the rest of their possessions. First Sergeant Keith McMalloy scans the chaotic scene as the youngest soldiers panic and dash toward the dense foliage of the jungle, mistakenly running into enemy lines. Catching the eye of his best friend, Todd, the two use their three years of military experience and run the same direction as the bullets are flying. Sprinting in a zigzag path to escape the bullets and the bodies spread on the ground, the men dash through the rainforest. Running for their lives, they constantly scan the trees around them, searching for other attackers who might be hiding in the trees. Sweat drips from their foreheads like drops of water from a cracked pipe as they push themselves further into the forest.
Branches scratch their exposed forearms and cheeks as the uneven ground causes them to trip and stumble along. Vines reach out and grab the fugitives' legs, fighting against their every step. Exhausted from the run, but out of range of the bullets, the two friends search each other's eyes, and for the first time, recognize genuine fear. Alone in the enemy's unfamiliar jungle and without food or water, Keith decides their only option is to turn back and search for more of their comrades.
Just as Apollo, in his chariot, begins to draw the sun over the horizon, Keith and Todd slowly begin their trek back to the battle site, hoping to find some small, remaining sign of life. The soldiers cautiously hike, longing for the safety of their neighboring farms, where the golden wheat fields are plentiful and the serenity is addicting. Where the quietness is not eerie but, rather, peaceful and where noise does not signal death. The strong stench of blood invades their senses and immediately halts their daydreams. As the two stoic men glance ahead, the sight delivers a horrifying blow and cracks their tough facades. Not even twelve hours earlier, the meadow was filled with slumbering soldiers. Now many of the soldiers are in a deeper slumber, never again to awaken on Earth.
Todd forces himself to continue walking, passionately praying over the lives so brutally taken. BOOM! Just as Todd finishes his conversation with the Lord, a single gunshot rings out, followed by an agonizing scream. Whirling around, Todd sees Keith writhing in pain on the bloody soil, the only movement in the meadow.
"Maria! Ava! My new baby girl!" Screaming in agony, Keith's thoughts are not for himself, but for a certain brown-haired beauty, watching his little towhead frolicking in the yard and cradling an infant. How will they live without him? As a sharp pain courses through his side, Keith knows he hasn't much time left on Earth. He gazes into the kind, wise eyes of Todd, wishing with all his heart he could wake up in Maria's arms once more. How could he have known the stolen kiss in the airport would be their last?
"Promise me . . . you will tell Maria the news instead . . . of some stranger! I don't know how she'll manage without me!" Although Keith lies dying in the midst of a war, his last thoughts remain solely on the future of his family. Struggling for every breath, he continues. "And please . . . take care of my girls. As they grow up, make sure . . . they know how much their daddy loved them. Watch over them . . . and treat them as your own. Teach them everything . . . I would have taught them . . . and remind them of my everlasting love for them. Please . . . walk them down the aisle . . . on their special day . . . and make sure they know how much I wanted to be there. But . . . most importantly . . . help them to grow in their faith. Teach them to love . . . like the Lord!" And with that last sentence, Todd watches as Keith draws a shaky breath and goes limp.
Over Keith's dead body, Todd utters a short, heartfelt prayer and vows to fulfill all of Keith's wishes. One last glance at his lifelong friend confirms Todd's suspicions: First Sergeant Keith McMalloy will never become a military captain, but he is already known as one of "the captains" of the Lord's heavenly army.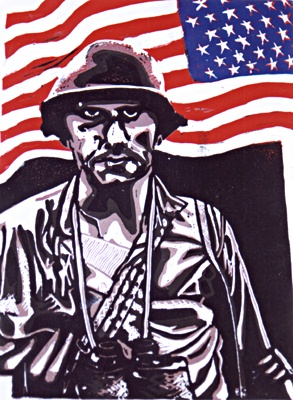 © Troy W., Kannapolis, NC