My Personal Nightmare
June 5, 2012
I am lost in a nightmare, this cannot be happening. I must have slept for a 1,000 years. I am shaken from my thoughts, by the club of a kapo. The blow hits my forehead, which instantly begins to bleed. I know it's forbidden to move out of formation during roll call.
After the torture of roll call I get my ration for breakfast. A slice of bread with sawdust inside and thin coffee. I must take care of my wound before a Nazi sees me and sends me to the "showers".
I head to the infirmary where my wound is wrapped and I am to rest for the day. I hear a variety of languages. German, Polish, and my own language Hungarian.

In an instant, I see my brother! A familiar face! I am so overjoyed, that I rush to his voice. I discover he doesn't have a chance with the worse case of typhus anyone has ever seen.

I slept in the infirmary, on the cot right next to my brother. We talked all night even though I must go back to work the next day. Around 2 am, he went silent. Soon after, I fell into a deep slumber. I woke up to find his cot empty.

I rushed to roll call where I was to repaint the gas chamber walls every time after a gassing. I never had a more gruesome job watching children, the elderly, women, and men walking to their deaths. I wasn't as exhausted that night, I just wanted the food ration. This would be the last food ration of 1944.
The next morning was joyous, 1945 had finally come. The Allies were winning this great war. We may come out alive! The workload was less heavier than usual. I had the same job, I had to paint it purple this time.
After a few months of the same job, In the middle of eating our lunch ration we were locked in our barracks. Every prisoner heard the explosions. Finally after 20 minutes of silence, The lock on our door was pried off and Americans fed us and sent us free. I was free! The nightmare was over!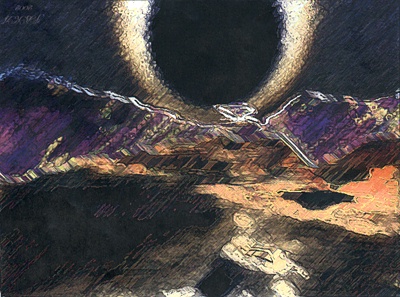 © Jason B., Colorado Springs, CO