The Diary Of A Victorian Aristocrat
June 7, 2012
This is the diary of Mrs. Edna Morton
Born on the 22nd of April in 1819.
Married to Sir William Morton
Residing in Chatham, Kent.

Tuesday, 9th of December, 1859: A little bird has informed me that there is a foolish man blabbing ridiculous rumours and accusing the church of lying about the origin of mankind! He claims to be a 'man of science' - how preposterous. This Mr. Charles Darwin claims that mankind have evolved from some of the ugliest creatures on the planet - chimps! How absurd. What has civilisation come to? What next? Shall we evolve into monstrous flying beasts! How dare he defy the will of God and fantasise about a silly, childlike fairytale!

Wednesday, 10th of December, 1859: After feeling so distraught and angry about the imbecilic nature of one Mr. Charles Darwin - it was nice to have my mind taken off the subject, Mr. Irving from Palestine Hall dropped by for a pleasant afternoon tea and enlightened us on a new beauty treatment in the form of spa water! It's supposed to relieve your body of all aches and pains and chills whilst rejuvenating the body and restoring youth. It is said that one is to soak their whole body in the spa water and just relax. Oh, I must persuade dear William to accompany me to the nearest venue this weekend. I will most definitely be the first of our social group to try it and it will certainly make an interesting topic for the ladies luncheon next Wednesday!

Thursday, 11th of December, 1859: It's established. William and I will travel to Bath this coming weekend to experience a 'spa water treatment'. I am rather thrilled, hopefully it shall knock some years of my age!

Sunday, 14th of December, 1859: Have just returned from a most endearing trip to Bath. It was a rather eventful expedition with some peculiar occurrences. I don't believe I have ever encountered such a curious group of people before in my life. Upon our arrival late Friday night, we checked in to an adorable bed and breakfast named 'The Windsor', which was absolutely quaint with historic antiques scattered around the establishment in an orderly fashion. On our way up to our suite, William and I came across a couple who were also staying at the inn. They were romantically involved and had a small infant with them: but were not married. I found it most odd and felt somewhat disgusted. Did they not consider the future of that poor b****rd child? William agreed and we thought it best to just avoid them for the rest of the weekend. The first night at the bed and breakfast was rather restless, with loud raucous coming from the streets which put William in an extremely foul mood the next morning - which nonetheless dampened my whole day. However, once we arrived at the spa, the day seemed to brighten slightly. After having a dip in the spa water, I felt exhilarated and full of life! Must remember to write to Mr. Irving and thank him for such a wonderful recommendation. It's true what they say - I feel years younger! I did meet some interesting people as well, some writers, some poets, some artists and some merchants! All with their own fascinating tale. One man in particular caught my attention. He was somewhat youthful, a budding poet, who was in the middle of a writers block and had journeyed to Bath all the way from York - just so he could try to conjure some fresh ideas. He too had heard the rumours of the miraculous water and the problems they could solve; he saw it as a reliable opportunity to cure his dilemma. As soon as his feet hit the water, he claimed to be flooding with ideas of new poetry, frantically searching for writing equipment in case the new fancies were to escape his mind. I had deep and curious admiration for that man, and was a little hurt when he left without bidding goodbye. To make matters worse, on the way home from Bath, William found it necessary to complain in a most irritating, whining manner about the length and duration of the trip. I must say, I did get very frustrated with him and found it hard to converse in a polite manner on the journey home. I shall have to remember his lack of patience next time we holiday and pick a location much nearer to home!

Tuesday, 16th of December, 1859: It appears that my somewhat dim-witted husband is attempting to test how far my patience will go. I spent all morning gathering the preparations for our annual Christmas gala and the only thing that I asked for was a little assistance. Is that really too much to ask for? Really? My tolerance was beginning to collapse, so I marched into William's 'private' office and there he was, playing with his ridiculous toad collection. Honestly, he looks like a twelve year old girl with a doll! "Look Edna, look!" he shouts, "look at how much Cornelius has grown!" I just stared at him dumbfounded. While I had been slaving around downstairs, hanging garlands and preparing the wreath, he was lazing around staring at d*mn toads. We all know William isn't the brightest flame on the candlestick, but I could honestly have strangled him with some tinsel!
Wednesday, 17th of December, 1859: As if anything else could go wrong! It began to snow this morning – heavily. This was an absolute disaster for me, as I had to run numerous errands for the Christmas gala. I had set the maids the mundane task of ensuring every inch of the house was spotless. Therefore I had to go to the butchers and order the biggest Turkey in town; I will not have Mary Harvey complaining about my feast this year, not again. Anyway, a quick trip into town was not as simple and fast as anticipated. With weather conditions outside worse than that of the North Pole, it was extremely frightful. Ice encrusted the pavements like a blanket, whilst the snow fell so heavily that it blinded my vision. It's no surprise what happened next. I fell head over heels, and slid down the steep, icy path and violently hit the lamppost at the end of the street. I have never been so humiliated in my entire life, although the local children thought it was positively hilarious. Yet when I told William about my episode, he seemed to be more concerned about the size of Cornelius – even though the bump on my head was twice as big...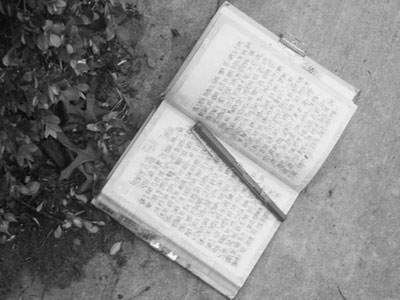 © Quinn B., Lubbock, TX