The Vase That Killed Me
April 26, 2012
The vase that killed me was a magical vase with lots of history. Hand carved spells and runes from an old language older and more lost than Latin. Made of the purest clear-as-water blue crystal and sharp cut diamonds that glimmer with a thousand colours in the late noon sun. Hand crafted in ancient Rome, it was passed from hand to hand by the wealthiest people of Europe. Worshipped and wanted for its beauty, feared by its power and magic.

A spy from Persia assassinated King Darius, and stole the precious item, thinking he could keep it for himself. Only, Alexander the Great knew about the spy and his plans, which led him to kill the spy and keep the vase. From there, Alexander took and introduced the vase to India, where he died when he fell off an elephant in the middle of nowhere.

After his death, the vase was lost for about four hundred years under sand and dead grass, only to emerge again in the hands of Julius Caesar, an acquaintance of Cleopatra.

It slowly made its way back to Rome where it stayed for two centuries, until a clumsy emperor dropped it. He used the shards to make a sword which he had given to his son Caligula, who used it to chop his annoying child in half. Caligula was shamed by what he did and sent the sword back east with Valerian to give to the barbarians. However, on the way there, Valerian was shot in the stomach by a Parthian arrow. The last thing he saw was the sword, as he was forced to cut his eyes out by an invisible voice that drew him into insanity.

The Parthians took the sword and got the finest blacksmith to turn it back into the vase it once was, where it was passed to the Arabs. It caught the eye of Richard Coeur de Lion, glimmering in Saladin's kitchen when he was looking for a bite to eat. Saladin gave up the vase to keep peace and avoid conflict. Richard brought the vase to England, where it was worshipped with unholy acts. People passed the vase on from generation to generation, finally ending up deeply lodged into my head and face.


Only that vase wasn't as tricked out as I said it was. I wish it was, but it's not. It's actually the clay vase my grandmother made in Pottery class at the Home last week.

Cause of death you may ask? Well, let's just say next time your spoiled six-year-old sister asks you to move over an inch… Do it.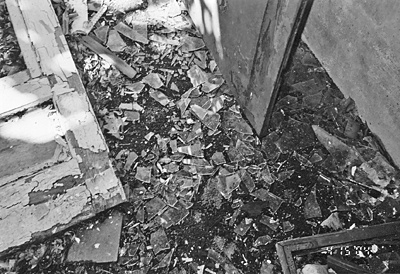 © Gary C., Pequannock, NJ