Waves Keep Crashing
April 10, 2012
We made it. We made it to Miami. After all the time we spent on that little boat, I will never have to deal with Castro again! I couldn't be any happier! My mother, my father, and Jacob all made it. Jacob's parents are still in Cuba though, but I hope they can make it to Miami soon to be with us. I am Lisa Marino; twenty-four years of my life I lived in Cuba and I am finally free.
Suddenly I felt a hand on my shoulder, so I snapped my journal shut. It was Jacob, my fiance of a year and a half. We haven't been able to get married because we didn't have enough money when we were in Cuba. His family, like mine, were farmers before Castro came to power. He took away all of our farming land. Both mine and Jacob's families were without a home. I stayed with my grandparents for two years until we finally fled to Miami. I have known Jacob for as long as I can remember. We lived very close to each other until the land was taken away. We got together when we were seventeen and now we're waiting to start a life together. We won't marry until his parents come to Miami though, so I pray that they'll come soon!
We're staying in a little hotel until they come. It is small, near the coast called Cozy Inn. There are many other escaped Cubans staying here because it is very cheap and quiet. There are very few employees here because it is so low cost. It always smells of dust and cigar smoke in the hotel. We'd heard of the little place when we were in Cuba and planned to meet Jacob's parents here. They couldn't leave Cuba when we did because they hadn't yet saved enough money to support themselves when they got here. They said it wouldn't be long, so we waited for what seemed like months.
This is the third week we've been in Miami and I've seen many people that I know from Cuba. It is beautiful here, like a smaller version of Cuba! The beaches are lovely; the air, sand, and water are warm like they are in Cuba. Jacob and I walk down the beach almost everyday. Today is when we are expecting his parents to be here. This is the day they told us they'd arrive but it is getting late and we haven't seen a sign of them all day.

"Do you think they are okay? What if something happened? I don't know what I'd do!" Jacob was panicked that his family hadn't been heard from. I held him close and tried to reassure him but he was terrified. In the middle of his rave a woman ran up to us. She was old and hunched over. Her clothes were ragged and she was soaked to the bone. She was crying so hard we couldn't understand a thing she said. Somewhere in her yelping and sniffling she managed to get out the word "Andrea!". Jacob's mothers name.

Jacob went hysterical. He begged the little woman to explain what had happened to his mother. The lady tried to tell him but he still couldn't understand her. "Please! Calm down and tell me what happened to my mother! I can help!" Jacob screamed. In all those years, I'd never seen him so crazed before; I was frightened. The old woman took a deep breath and said to him. "Your parents. They're dead. They were shot by a guard. They were in a boat, fleeing Cuba like we were. The man saw our two boats and told us to turn back at once. We knew he would arrest us so we went even faster. Our boat was bigger than theirs was, so we were able to escape. They didn't. They almost made it..."

The second the woman trailed off, Jacob was running. He threw off his shirt and dove into the water. I couldn't believe my eyes. Watching the one I love swimming out farther and farther. I didn't go after him, I didn't yell at him to stop, I didn't even call out to him. I simply stood on the beach next to a sobbing old woman, silent. Jacob had a very athletic build, so I thought he might make it. I never saw him again. Maybe he found his parents, maybe he was arrested, maybe he got lost, and maybe he drowned. I'll never know. I do know that I will forever regret not stopping him or even calling out. I couldn't believe he'd really go; now he is gone.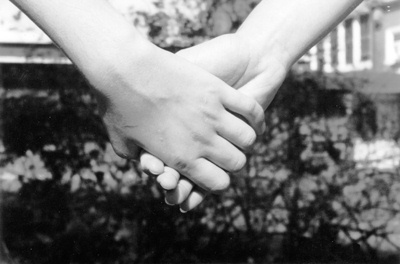 © Lauren G. Pompton Plains, NJ