Only A While Longer
April 10, 2012
It was a damp and warm morning. The sun had just risen and the heat made it already feel like the middle of the day. The sounds of screams echoed through the alleyways. This made the moment of ecstasy I felt disappear. Since the soldiers had started to increase their numbers into my town, things have gotten hectic. The Mexican Revolution had created certain aspects of discomfort for the people of Mexico. These discomforts were created due to our power corrupted President, Porfirio Diaz. My family (consisting of my mother, little sister and I) knew this discomfort all to well. Our home had been destroyed due to the outbreaks of rebellion within our small town. We survived only due to the fact that our neighbors helped us by providing us with shelter. I tried to find work but sadly, came up empty handed. The real problem with the revolution were the soldiers. They believe that everyone who looked suspicious should be searched, jailed, or even killed. With daily executions I had to be wary of my friends and neighbors being caught disobeying rules or fighting with the soldiers. This is the time I live in, the time of a revolution that has not helped my family, and friends at all.

Since I could not find work I started stealing. I did this seeing as it was the only way to repay my neighbors for their support. I also had become a rebel due to the fact that the soldiers made my life a constant hell. My role model had become Emiliano Zapata. His speeches made my family get through the hard times we were in. So with that I knew I had to be careful with how I would steal, and what to do if I would get caught. I knew if I got caught, I would never see my family again. So I made myself a promise never to get caught, and always strive for the freedom of my people.

As I lay hidden on the top of a roof I heard someone running. I turned around to see a tall build kid about the same age as me running across the rooftops. He had a devilish smile on his face that reminded me of my crazy uncle. Soon after I saw two soldiers run across the roof and try to catch up with him. One of them stopped to take a breath and looked straight at me.

The face he gave me meant that I would likely get beaten up if I was caught. As soon as he started moving I bolted across the roof. He started yelling obscenities at me as I jumped onto another roof. Forgetting that it was damp I slipped on the smooth surface of the stone and tumbled repeatedly until I caught myself. I was covered with sweat and knew I needed to find a place to hide. I realized that the area I was in was very familiar to me. The guard had almost caught me until I jumped from the roof onto the pile of hay I had set up earlier. I jumped out of the hay, and bolted towards the sewer entrance. I slid into the open crevice and was free, but only for a while longer.

The sewer smelled of dead fish and greasy oil from the food vendors above. The smell almost made me pass out due to the fact I hadn't eaten anything that day. As I searched through the sewer system, I found an exit right around my neighborhood. I quickly opened the sewer grate and ran straight down to the market. "I hope the guards don't recognize me." I thought to myself. Since the guards felt the need to harass every single vendor I had to be quick about finding some food. There was a man there selling tortillas and chips for only a couple of pesos. The smell had made my stomach growl as loud as a lion. This was embarrassing to me because everyone had turned to look at me. As I bought my food, I saw a nice place to sit down. As I was enjoying my food I head yelling. I really wanted to relax and enjoy my food, but sadly I wanted to make sure someone wasn't going to get hurt. I ran over to where the yelling was to see the same boy that had been running on the roof away from the guards. This time he had one guard checking him for money to see if he would bribe him. "I won't reason with you niño." the guard yelled at him. I realized that the guard was serious when he pulled out his pistol. As this happened, I knew the boy needed help. My heart was racing, and I was sweating. I started to run towards some crates that were right near the boy and the guard. I smashed into the boxes and they started to tumble right on top of the guard. "What the Hell!" the guard said. "Run!" I said to the boy. He dashed from the clutches of the guard's huge arms and ran through the alleyway. I felt relieved that the boy got out of there alive. As soon as I turned around to run away, another guard had showed up, and used his pistol to hit me across the head. Everything became dark, and once again it was quiet, but for only a while longer.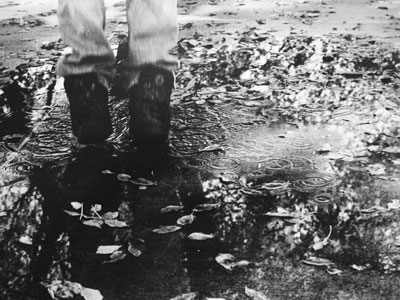 © Laura M., Eagan, MN