Lil Reco
April 10, 2012
I don't know what day it was, I don't the time, let alone the year, but what I do know is where im at ,what I'm doing. My name is Recardo Mendez I am 14 years old 5,7 and about 55 kilos. I've been fighting in the war ever since my mother and father were killed by the Army 6 years ago. The stench of blood and death is irrelevant to me now. The nightmares that came after killing a man had stopped. It almost felt like I was born to kill.

My brother Juan brought me into the rebel Army, he was 4 years older then me when our parents died. Juan took me to a big building made out of scrap metal and concrete. It had a big door, and a sign that said FMLN on it. as my brother knocked I was shaking. When the door open there were two big men with 2 big guns. One of the men shouted
"Are you the new recruits"
"Yes Sir" Juan replied.

As the men let us in it smelt nicer then our own home. When we came into the room their were a bunch of men surrounding us in a circle. One of the men shouted at us in a harsh tone
"You want to be in the FMLN"
Juan started to nod his head. The man who shouted started to walking towards us. With every step the man took, the shadow that was blocking blocking him got smaller and smaller. When the man got into the light he looked as if he was a regular guy on the street. He wasn't wearing combat boots or a uniform, but a pair of old shoes and shorts. he had a big gun hanging from his neck and a big mustache. He looked down at my brother and me and said
"Everyone is this build is family now, We fight for one thing and one thing only. Our freedom" He went on. "Can you die for our freedom"
My brother answered "Yes I'm ready" The man knelt down on one knee and looked at me blowing his cigar smoke in my face. He asked me the same question he did Juan. I had no clue what to say. I didn't want to be part of this war I don't want to kill anybody. I dont want to be a murderor, but if I don't then where will I go my parents are dead and my brother already agreed. Nervous and hesitant I told the man yes I am. The man stood up and looked at us both and said
"We are going to have to make you stronger, more fit for combat" The man went on "my name is Beto Rodriguez, I'm the leader of group 8 of the FMLN"
Beto then signal two other men to come take us to or bunker. As the men were takeing us away, Beto said
"I hope you made the right choice"
I am now 14 years old and my older brother has died in the war. This war is killing everyone and everything. Where I live the birds don't sing and the feeling of worry is every where you go. I hope this ends one day, but thats only a dream.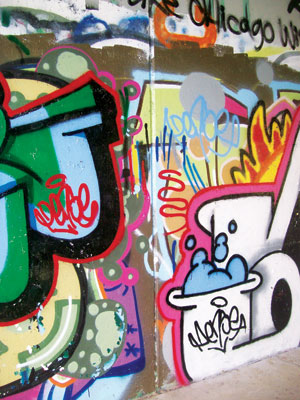 © Michelle W., Ada, MI