Short Story
April 10, 2012
It was 1959 . She could choose any place I told her. The one place she chooses is Cuba. My wife has a very hard working job. She interviews a lot of people but she hasn't really got up to the famous people yet. She could lose her Job because of that she to find something big before it's to late.But me I didn't want to go to Cuba. This is why me and her fought so much. We just couldn't agree. I told her all the things that were going on there.. But like I said she never listens. I was telling her about Fedel Castro and the Cuban revolution. On July, 26 1953 Fedel and several other rebels attacked an army barracks. Most of the Rebels were killed and Fedel was put in jail.. Fedel was one of the many who did not like Batista. Batista has been leader of Cuba for a large amount of time.I just want a break, I'm worn out! She told me.Well what the heck let's do it then Jamie. I told her. After several months we got our tickets and we were on our way.
It was about 5:30 pm New Years Eve we arrived in Cuba. As I stretched my body off the plane, the light blinded me in such a manner that it felt as if I thought I would never see again. Then is where I made the decision to reach in my pocket and pull out sunglasses to shield my eyes from the warm, blinding sun. It was so beautiful here my Wife said, as I'm agreeing. After getting our belongings from the airport we get a taxi to take us to our hotel suite. As we were driving we had been stopped from a result of traffic. Although It was not from cars it was from something else. My Wife and I looked at each other very confused. There was so many things going on as if it was a riot, at least that's what it looked like by the way people were acting. Jamie got out of the Taxi to see what was going on. I got out the car also. What are you doin? I asked Jamie. I want to know what's happening, she said. Can we just go back to the Hotel? We can worry about that later. This is your vacation! . She finally agreed. We got back in the Taxi and later arrived to our destination, the hotel.
We got to our room and it felt just like home except way better the bed felt like I was laying on a cloud. It smelled like it was so brand new. Like when you get a new pair of shoes except this was also way better. The room was everything you could dream of. Literally everything you could dream of because right when I got myself comfortable in the bed I took a relaxing nap that took all my stress out. All I could dream of was the room. Then Loud commotion from the window awoken me from my magnificent dream. I checked to see what the time was on my watch it was 12:30 New Years. I stretched my legs arms. I looked to see where my wife was but she was nowhere to be found. Jamie? Honey? Where is she? I thought to myself. I looked out the window and I saw her beautiful brown hair blowing in the breeze. She was with someone though. It was another man and she has her phone out to him too. I quickly rushed to find my jacket and shoes. Pushing on the button for the elevator to go. I had never been so furious! Finally get to the lobby level as soon as the doors open. Jamie awaits me. What do you think you were doing! I yell. What are you talking about? She ask? I saw you with another man and you had your phone out for him. Looked like you guys were having a good time weren't you? She laughs. Honey do you even know who that man was? That was Fidel Castro! He just overran Batista and his campaign. I happened to see him on the street. O... well what were you doing with your phone then? I ask.. Lets just say I'm going to have my job for while now!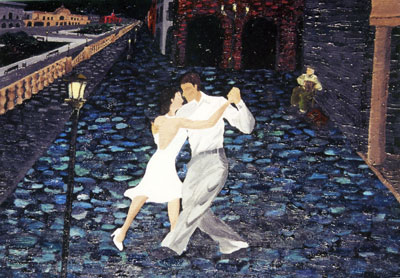 © Elizabeth M., Kannapolis, NC