A Different Picture
April 10, 2012
I sighed again, I've probably done it a thousand times. Flipping my pen, I thought, and thought. How should I do it? There's no easy way to write it. Tension and violence had existed between the El Salvadoran government and the FMLN, guerrilla fighters, before the assassination of Archbishop, Oscar Romero, in 1980. That event had sparked the whole outbreak of the revolution in El Salvador, and I've gotta' write my story of when I was in the middle of it. I'll start when I was young...

My name is Christopher McCollum. I grew up in a small town called Fort Scott, Kansas. In 1983, I attended North West Kansas Tech College, studying to get an associates degree in photography and journalism. Besides marrying my beautiful wife, Maria, and expecting a baby girl, Lilly, I had thoughts of going into the military much like my father, grandfather, and great grandfather. I decided to join the military as a journalist instead; I thought I could do better shooting a camera than shooting a rifle.

The unit of nine Army Rangers that I was recruited to had been assigned to a top secret mission in November, 1991. We were told not to speak of this to anyone because no American soldiers were allowed to "fight" in the war. The briefing of the mission was long, but direct; and it consisted of two words countless times: "Sustain" and "Prevent". Since there was no official leader of the FMLN, we were told there was no point in an assassination. My unit was to help the Salvadoran government to "end" the war, and I got the privilege to serve my country by taking photos.

I was 26 and felt I was in over my head on this first assignment.




May 16, 1991

Despite listening to all the interesting pilot conversations through the radio or the guys blasting Metallica in the back, it was a long trip for me riding in the helicopter with my weak stomach. We took off at fifteen hundred hours from the aircraft carrier about 250 miles off the coast of El Salvador. Our squad was accompanied with other Apaches and Little Bird attack helicopters to carry on the assault and get through enemy lines without any trouble.

We were en-route to the main city, San Salvador, to prevent more tension and violence from escalating in the city. I quickly checked my camera, a 1988 Nikon FE2, my canteen, and my bag to make sure I had everything. Next, a man had opened the right, then the left side doors of our helicopter. I saw nothing but smoke and a dark blue ocean below. Smoke from missiles were soaring through the sky, most of them got closer to where we were. Next I heard a loud thundering boom behind us, I was horrified. Some missile hit one of our attack helicopters. Oh, God! The scene shocked the whole unit.

"Get us outta' here!" Yelled Lt. Pryor from the front of the helicopter.

Our pilot swerved us out of the way of two RPG rockets, only to be shot in the head by a gunman on the ground. The secondary pilot took over the spinning helicopter. After regaining control he flew us to our landing zone about 25 miles inland of El Salvador. Next, I heard the man yelling and holding up three fingers, assuming he meant three minutes until we drop.

Looking around, I saw every one taking their rifles off safety, now ready for anything. My buddy from high school that I served with, Jason Lugo, tapped me on the knee, then handed me a double action revolver and a couple rounds to keep concealed with me, just in case. Looking over, I noticed we were over a hornet's nest full of FMLN. A man at the front threw a rope over reaching to the ground below.

After everyone had gone, it was my turn to go down. I could hear the screaming, gunshots and explosions below me as I clenched the rope and shut my eyes, then slid.

June 1993

The civil war ended with a peace accord signed in Mexico and a cease-fire with UN supervision in El Salvador. A total of 75,000 people were killed. As I sit in my office today, I still think about how war has changed my perspective and my understanding. To this day I still have nightmares of when I was forced to use my revolver on a nine year old FMLN member who had me at gunpoint, and the regret I feel over not warning Jason quick enough before he was stabbed in his side and killed from a suicide attacker's bayonet. But what can I say, it's war right?

The pictures that I had taken during that mission were never shared with anyone. They only remind me that war doesn't show the people who are right, just who's left. Through the lens of my camera I now see life in a different picture.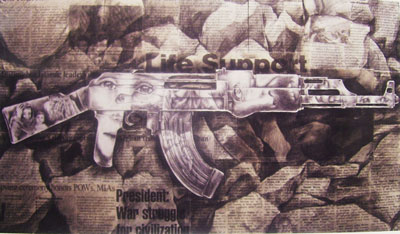 © Claire V., Lubbock, TX