The Test
April 10, 2012
I left the coast of Southampton on one Wednesday in April 1912; full of hope and aspirations for my new life in that beautiful city; New York City with its bright lights and courageously tall buildings.

It had all started two months previously, back in England when I was helping my mother with the grocery shopping. A man approached us. I distinctly remember his appearance. He was a handsome young man (although about ten years my senior, I was seventeen at the time) with thick dark hair and a bristly moustache. One could tell that he was of a high status due to his immaculately smart suit that fitted him like a glove. He spoke to us in a strong American accent that I had only ever heard at the cinema. He told me that I must travel to New York with him. He was a play producer and I had the exact look that he was searching for in the lead. My mother was hesitant at first but of course I jumped at the chance. I had always imagined a similar fate to mother's. I was to get married before my twentieth birthday, raise a family and work as a fulltime housewife. Now, don't get me wrong, I would have been perfectly content with that life, in the same way that my mother was content with hers but suddenly a new, more exciting future glittered in front of me. So he gave us the telephone number of the hotel in which he was staying and left with a confident strut and an air of sophistication that only someone from a big city could pull off.

We spent the next few weeks frantically packing up my possessions for this once in a lifetime trip. I was weighed down with my older sister's clothing. My family were poor so everything that I owned had once belonged to someone else. We could not afford lots of new, extravagant outfits. My aunt, bless her, bought me some brand new black patent court shoes. They must have cost her a fortune. I think they were possibly the first thing that I had ever properly owned that had not belonged to anyone else beforehand.

It was in those shoes that I left English soil, with the play producer a few steps behind me and an ecstatic grin plastered across my face. I held my boater on my head with my left hand to prevent it from running away with the wind and with the other hand, held my battered suitcase by the handle. Once we were on the deck we joined the hoard of people waving to loved ones. I let go of my suitcase and waved to my mother. I felt tears collect in my eyes. This was the first time I had been away from her. The ship left the dock and the play producer who went by the name of Richard led me to our rooms. I discovered that we were staying in First Class and intricately patterned carpet soon softened our step. Arm chairs with elaborate gold details shone iridescently under the beautiful, impressively large chandelier hanging elegantly in the centre of the room. It was without a doubt the prettiest object that I had ever laid eyes on.

During my stay on that magnificent ship I dined with other wealthy folk. I borrowed exquisite dresses and made small talk on subjects that I had only dreamt of discussing seriously; most of the time I just listened and observed. This was giving me a taste of the life that lay ahead.
On the fourth evening we ate rich food served on silver platters, like we had done every other night. All our stomachs were swollen as we retired to the drawing room. We drank liqueurs and made idle chatter. I was having a wonderful time. This was the first night when I had been properly included in the conversations. Everyone seemed to be talking to me at once.

At around half past eleven I finally let out a yawn. It had been a long day. As soon as I did, everyone decided that it was the right time to retire to bed. We were all still walking together when the lights started to flicker. We all stopped and looked around and then continued walking. However, it was not long until we were thrust to the side, landing on the carpet with a thud. Everybody fussed around, patting themselves down, but no one really worried about why the ship had tilted so violently. "We must be entering a storm" Richard observed and who were we to argue? This ship was unsinkable.

I was so tired that night that I fell asleep as soon as my head hit the pillow. I dreamt of what New York City would be like. Was it as amazing as everyone said it was? Was it possible for anywhere to be as fabulous?

However, I awoke abruptly to find that I was lying on the floor. The ship had moved again. I was just about to get back into bed when there was a knock on the door. I grabbed my dressing gown and put it over my nightclothes before opening the door.

"Follow me m'am. We need to get you into a lifeboat." It was a member of the crew who had spoken.

"What's happening?" I asked but there was no reply. I left the room and followed him as he had asked.

"No need to panic, just follow me" he said.

Nothing could stop me from panicking when we got out on the deck. I could hear muted screams that I supposed were coming from the people in Third Class. There was water seeping out from under doors. I strained my neck to catch a glimpse of anyone familiar to me. I saw a group of people that I had dined with and quickly pushed my way through the crowds to be with them.
"Mary, Mary" I shouted, "It's Clara."
She turned, obviously not hearing me, and stepped down into a small wooden boat. "Women and children first" a member of the crew shouted above the noise. I pushed my way through to get on the same boat as the people that I knew. Just as I was about to step in, Richard pushed me back and got in himself.
"Excuse me, sir" said the crew member who was monitoring who got into the boat, "Women and children first. Let this young lady be the last passenger."
"Look at her nightclothes" Richard said, "Are they the clothes of a First Class passenger?"
I looked down at myself; they were not. The dressing gown was made of brown towelling and it was scruffy and old; belonging to my sister beforehand.
"She obviously snuck up into first class when she got news of the collision. Send her back down to the Third Class quarters. She's an imposter. She shouldn't be here." Richard lied.
The crew member nodded, "Please step back, miss."
Then the lifeboat was lowered. I stared at Richard as it went but everyone avoided my gaze. I pushed my way back through the crowds, knowing that as long as that man was monitoring them, I would not get a place in the lifeboats. It had all been a foolish fantasy. I had never really been first class and Richard made sure that I was put back in my place. I wandered down to the third class area of the ship in a dreamlike state. I could not face reality. One would have thought that I would fight for my survival but I did not. Over the last several weeks I had built my hopes up and now they had all been knocked down again. My dreams had been crushed and my heart had been broken. I no longer cared if I lived or not. I was just a poor girl from England so I would drown with the other English paupers. As I reached the last set of stairs I could no longer see anything and the cold water nipped at my legs, rising all the way up to my knees; but I kept going. I walked towards the screams until I was part of them; the water rising to my shoulders.
I stood for a while, in the darkness. There were people everywhere who would have loved to be where I was. They were being kept behind a door so they could not get out yet I could leave and go up to the deck if I wanted to; but I did not. I took quick breaths and let the water numb my body and let the tears stream down my face.
The boat tipped and the water engulfed me. I took a sharp breath, only for the water to reach its way inside my body and into my lungs. Gurgling screams were the last sounds I ever heard.
I left the coast of Southampton on one Wednesday in April 1912; full of hope and aspirations for my new life in that beautiful city; New York City with its bright lights and courageously tall buildings; the lights and buildings that I never got to see. It had been a test to stay alive; a test that I was not yet qualified to take. I might have been a First Class passenger on the Titanic but the truth of my status had killed me.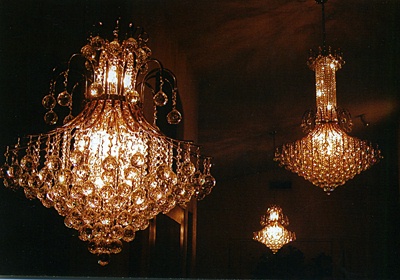 © JiaQi B., Paradise Valley, AZ