Seams
December 28, 2011
The dress was sleek and luxurious has I ran a gently hand down the fabric. It was a cerulean colour with a creamy silk under layer. The top fabric was made of velvet and had would have been a quagmire for any seamstress, because the minuscule black embroidery. On the bustle were black fabric roses. I stopped looking down at the dress and now was face to face with the small man in a fine tailored coat. He pushed opened the door and the sounds of the ball came flooding in. Everyone was in there best clothes, but nothing compared to what I was wearing. All heads turned as I confidently strolled into the room. There were low murmurs, but I did not let my smile waver.
The man in the coat came forward and introduced me, "Lady Rebecca Ashmore." His voice rang about the chamber. My gaze swept across the many faces of the upper class English. My eyes came to rest on a young man with the same colour blue eyes has my gown. He had flaxen hair and wore a wicked smile. He gallivanted over to me and dipped down into a low bow. I stood there a moment then remembered to curtsy. The music started and couples glided on to the dance floor. With the woman's large skirts and the man's coat's tails they all looked like swans, swimming around on a pond of icy blue tile. He offered his arm.
"If I may have the great pleasure of a dance with this beautiful young lady?" said he. Instead of answering and wrapped my arm around his. His strong hand rested on my hip as we began to dance. I had to try very hard not to blush. I was nervous, because I was not a very good dancer.
He licked his lips then stated, "My name is Isaac Weston, the son of Richard Weston." I smiled and pretended I knew who that was. I spun and when I stopped, I noticed a piece of dark brown hair had come loose. Isaac let go of my hand and brushed the hair behind my ear. He did not say anything, but his eyes said many things. I opened my mouth to say…

I gasped in pain and looked down at my finger. I had pricked myself with the needle and now dark red blood was dripping all over the cerulean velvet. I had been working on this gown for weeks, making sure I had made very stitch and seam perfect, but now I had ruined it. Selling this gown has going to bring food to my family's table and now all because I had day dreamed, we would go hungry. I had thought I had the seams of my life pulled tight, but now they were unraveling all around me.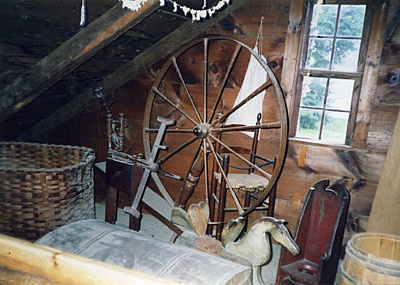 © Christopher S, Milford, CT