The Fires of Hell
December 15, 2011
The water rushed up to meet him as he jumped from the cliff. The rush was amazing. The only part of the fall he didn't enjoy was the sting of the impact of the water on his skin. As he swam to the surface he couldn't help but enjoy the quite of the water, there was no yelling, no fighting and best of all no problems under the water. As he walked out of the water he felt his happiness washing away as he stepped onto the dry sandy banks of the shore line. As he started the fifteen minute walk back to his home he dreaded setting foot through that door way.

Once he was dressed and walking home he ran into his dog Sparky. Sparky was his 3 year old German shepherd. He loved that dog with all his heart. Once the young boy and his dog resumed their walk he noticed the Blue Birds were silent. There wasn't any sound in the forest. This unsettled the boy considering that the nearest people that he knew of were in Wigtownshire. As they walked a sense of dread fell on the boy as he smelt the smoke. As soon as the black oily smoke kissed his nose he and his dog broke into a run for their small cottage in the near by clearing. As they broke the tree line the boy gave loose a cry that can only be said to be despair. His house was on fire and his mother and baby brother were no where to be seen. Sparky began to let looses a stream of barks and short howls and ran towards the fire only to retreat when it became to hot to get any closer. So there they sat watching their home burn and cursing the one on high for their lose.

FORTY YEARS LATER

Their he laid the boy from the fire dead on the field of battle. In his pocket they found a picture of his mother and sister. On his shoulder was a tattoo that helped identify him as Robert Jonathan William. The tattoo was of his dog Sparky who was now the proud father of seven happy puppies. The lad left behind a pregnant wife and two sons. This was World War II and he was one of the American Soldiers who was killed on D-Day. His eldest son, who was 20 at the time, shipped out two months later after receiving word of his fathers death he was out for blood and in five months his younger brother would be following him onto the field of battle to revenge their fallen father and to defend their new home. These are the brave men and women of America. Respect them and what they do and what they stand for. If you don't then you disrespect this fallen man and all the other men that died with him.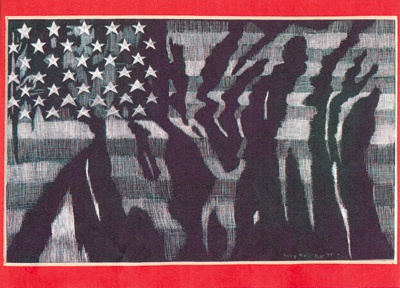 © Haley M., Ellinwood, KS