What is Left When the Ale is Gone
December 3, 2011
I scribe my soul on the scraps of what once was my shirt. Parchment is not a luxury permitted for captives like myself. Regardless, I won't need garments for where I am damned to be. I must dip my splinter quill into one of the open gashes on my feet and use my blood for ink.
This cursed ship is falling to the bowels of hell by Neptune's own hand, and I, once a proud Naval Officer, will be the first to sleep amongst the sirens. In a matter of days my life has been overturned by the very demons I once aimed to rid the seas of. I long to blame the pirates for bringing this catastrophic storm upon this ship; for belief that it is their sins that have prompted God's wrath is more settling than becoming a martyr for no true purpose.
It is with a heavy heart I pen this prayer that some angel may find me amongst the flotsam and return me to the safety of the land I once longed to part from. I set my promises in blood and desperation that, shall I survive by some holy miracle, I will be a better father and husband. My dear wife may have well been widowed the very day I first stepped aboard the warship. I orphaned my sons and infant daughter by choosing a life that I once thought to be noble. Nobility, however, has served as a clever mask for my selfishness.
Had I been a smart man I would have spent my life as a blacksmith or baker. What once seemed so boring and dull has now been revealed to be the most prosperous of all life paths. I would have watched my sons grow and see my daughter be born. I could have seen the first silver hairs sprout from my wife's beautifully aging head and be there every time she had grown tired or fallen ill. The years I have spent travelling the seas in the name of the king has brought me no real glory or splendors that I can take proudly with me to the gates of the heavens. The battles I have won and the awards I have received will be weightless before God's judgment. Only now, as I fret upon the line between life and death, do I realize that the true virtues in this world reside in the comfort of a well tended family.
Alas, I have foolishly ignored this virtue, and must accept that my children's memories of me will dissolve deep in the sea and be as lost as my body. The saltwater is now stinging the wounds that have served as my inkwell, and I must quickly write my final passages. I no longer pray for my eternal salvation, but instead pray for the preservation of this message in the hollow carcass of my guard's ale bottle. I can only hope that one day my children will find this letter; for it is their forgiveness, above any divine spirit, that will save me.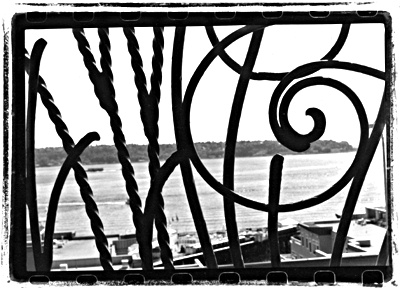 © Mary A., Fullerton, CA