Put On a Brave Face
August 16, 2011
There were people everywhere in the train station. And faces. Some smiling, some crying, some it was terribly hard to know what they were doing. I just held tight to my mother's hand as she led me to my school group. I saw my friends and waved merrily to them.
Mother lowered herself eye-level with me and straightened the collar of my blouse. "Now, Katherine, you're going to go away for a little while." She told me slowly and carefully, as if explaining the death of a beloved pet. I couldn't quite understand. I had heard talk, of course, of air-raids and bombs and horrible things like that. But that wasn't the cause of all this commotion- was it? I became a little frightened and frowned.
"I want you to write to mummy as much as possible, can you do that dear?" I nodded, but the fright lingered. Mother gripped my shoulders tightly. "Put on a brave face for your country and I, alright?" I made the bravest face possible. "Yes, I can. When will I see you again?" My mother suddenly looked very old and tired. "I don't know, dear, but I promise we will keep in touch." We had only a moment to embrace before I was herded into my group of schoolmates and all of us climbed aboard the train. I found a comfortable seat, and listened to the chatter of adventure. "We are going to the countryside!" A boy told me. "Didn't you know?" I shook my head. "We are going away on an adventure!" Adventure? Thinking of it like that made me feel better. This was all an adventure to the countryside. We would spend many evenings playing and running and laughing. We would eat cakes and drink tea and when it was all over, I would go back to Mother and Father.
The train ride was unbearably long. Countryside sped past the window as if on wheels, making me dizzy and anxious. When we at last came to the station, they lined us all up against the wall. What were they doing? And then they were giving us away. Strangers came at us, looking us over like cattle for sale, and saying: "This one." and "That one." They were giving us away. That's what they were doing- handing us out like free candy.
I breathed a sigh of relief when a woman with a kindly face came up to me. She smelled of cinnamon and fresh earth. "Now, we're going to go home now." She told me calmly and I felt calm, too. "We are not rich, dear, but we are comfortable." This was all she needed to tell me. I took her hand.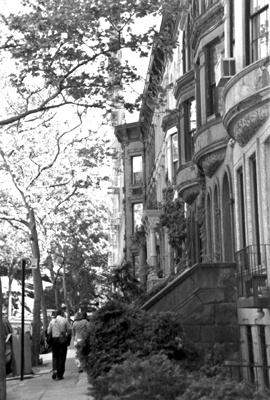 © Sarah M., Phoenix, AZ