The Dust
August 4, 2011
It's 1935. It is a year of black dust, wire fences, Papa's hat and Mama's brown dresses. It is the year my home changed forever.
In better years of rain, the wide field around our house would be a golden, swaying sea. Papa would have his team of two horses pull the plow along row after row and up the wheat and corn would reach, and we children would run with the rich soil between our toes.
But that was then. This is now, 1935. I'm 14 and dirty. Everything dirty- My hair, my teeth, my clothes. The great black dust shows up in every nook and crevice and Mama is on her toes. Scrubbing this, scrubbing that, washing us and washing us again. "This house will be clean, if it's the last thing I do." She would hiss under her breath as she shoveled the dirt from the front porch. My little nine year-old brother, Billy, was young and stupid then. "It's just how things are supposed to be Mama," He would say wisely. "It's how it's always been, right?" He was four when it started. He doesn't remember running in the golden sea with Mary and Eliza and I, nor does he recall the rich soil between our toes. He says he does, but I don't believe a word of it. In our room, behind a shut door, my sisters and I talk and talk about how it used to be. We brush the powder from each other's hair and wipe our faces with wet cloths. We wish the dryness would end.
One night, another storm came. It was a thick, angry monster of dust that swallowed our house, that bellowed and blew and shook the walls until they creaked. Papa had been out before the storm happened, and he had not yet returned. Eliza, Mary and little nine year-old Billy and I crouched in a corner, away from the window like Mama instructed. Suddenly, the screen door rattled and Papa staggered in, coughing and coughing until Mama started crying. "Olivia, don't." He whispered to her soothingly, patting her arm weakly with a dry, cracked hand. We all hugged him for the longest time.
After that, he was always back before a dust storm for fear that Mama would cry again. We had never seen Mama cry before that night.
We spent the whole next day shoveling away the dust from our porch and covering the windows with wet sheets. None of us could go outside without a cloth over our mouth. If I inhaled the dust, it felt like a cheese-grater down my throat. Billy removed is cloth briefly for fresh air. There was no fresh air. He collapsed, coughing and wheezing, onto the dry earth. Eliza rushed to his side, covered his mouth again and helped him inside.
"What happened?" Mama asked as she helped Eliza, Mary, and I set him down on the sofa. I explained, and by the time I had finished, Billy had recovered and was breathing normally. Mama embraced him for a moment before calming him and telling him to rest there for a while. I didn't want to leave his side. "I'm okay," He assured us. He was stupid sometimes, but we were all in this together.


This was the Dust Bowl, as it would later come to be called. Because of it, most of my memories are in black and white- black, black powder and white skies. That evening Billy collapsed, I prayed it would rain and wash all the dust away, before something really horrible happened. Before it could infiltrate our minds. Before I could forget the golden sea and the rich, cool soil and the days spent running outside.
I had no idea it would be nearly 6 years before my wish came true.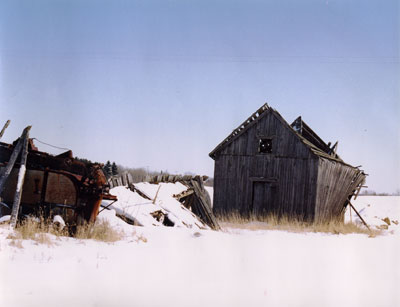 © Grace K., Boon, MI