Dear Janice
May 10, 2011
"Ma," his voice was hoarse.

"Shh," she hushed him, trying to keep him quiet under doctor's orders.

"Ma!" his soft voice even more urgent.

"Rick, the doctor doesn't want you talking."

"But Ma," his voice got even quieter, if that was possible. "I killed a man."

"Ricky, don't think about it now."

"But Ma! He didn't deserve to die!" His voice rose to a crescendo, swelling with distress.

"Everyone has to die sometime," her voice was soft, trying to comfort her son.

"It could have been me," he groaned.

"It wasn't you. You need to stop thinking about it and go back to sleep." Her voice became more firm.

"But he was just like me," his voice broke and he turned over to hide his face, his shame, from his mother.

She did not respond. She listened silently as his breathing slowed and he drifted into a deep sleep, where he would be safe from these memories that plagued his waking moments, where, for now, he would not remember what he had had to do. When she was certain he was asleep, she stood up and walked to the bureau and picked up a photo and dog tag that lay there. Both had been clenched in her son's fist while he had been in the hospital, and even for his first several feverish days at home. She looked sadly at the photo of a young woman - the name on the back read "Janice" - before setting it down. She picked up a piece of stationary and sat back down at her son's bedside and began writing as tears slipped down her face.

"Dear Janice..."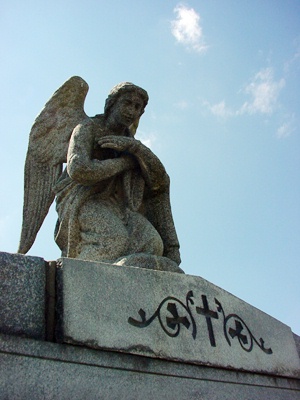 © Greg K., New Lenox, IL