East City
May 4, 2011
"Where did you get that from?" said the shopkeeper, alarmed, frightened, even frantically. In his face one saw fear that hadn't arisen in far too long.
"I've had it all my life," I said, unsure of what his reaction would be. "I've had it every day of my life that I can remember, sir." 'Sir'. the one word that made me feel like I could get out of trouble.
"You'd best get rid of that awful thing, before they find it." he almost barked - , "you could get into a lot of trouble!" His immense nose and the musky odor of his sad little shop endured what raged from his mouth, as the words assimilated into the plaster and bounced throughout the rafters.
"I don't understand why-"
"Out of my store!" he shouted, "and don't let me see that wretched thing again - not here, not anywhere - or I'll get the police on your tail faster than you can swindle a change purse, filthy kid! Out!"
I stowed my instrument in my bag and ran out of the store, lacking in understanding and filled with with confusion and fear. What was going on? I thought to myself as a darted here and there throughout my ailing city. I competed in a race among the ruins with the spirit of that shopkeeper following me, telling me to leave, no reason why. It was 1961.
I burst through the squeaky apartment door, and ran upstairs past Jakov the janitor. He was a small man of stature, who never talked to anyone, perhaps besides me.
"What's your hurry, little Eliyahu?" he said in a voice that starkly contradicted the speed at which I sprinted homeward bound. He was calming, yet he was too weak to maintain this calmness, and the calmness was far to weak to maintain him.
"It's the shopkeeper, the new one from the Russian federation - who sells shoes - he chased me out of his shop because I carried my violin in my bag. I didn't understand why."
Jakov looked gravely out the dusty window at the wall, its sirens, its watchtowers, and its guards. A look of solemness and remorse crossed his face. I could tell he would struggle with what he was about to say.
"Times are changing, little one," he said, with a tone of which I had heard him speak only when he talked about the camps of death with my father. "We cannot live the same way anymore. Now that the communists have taken our half of the city, we must recognize times are changing."
"Then why did the shopkeeper - "
"No music is to be played, no dances are to be had, no public gatherings are to be organized. That's - " he stuttered. "That's the way things are now."
Still without full understanding, I continued my run up the stairs, and as each flight passed, I could hear Jakovs crying fade more and more, like a train in the distance, never to be seen again.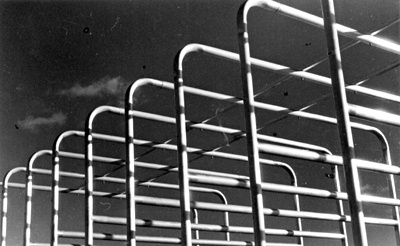 © Steve S., Marblehead, MA