Loner in the Dust
May 1, 2011
On a humid, hot day during the month of April in 1932, Jim Canten walks throughout his farmland to check on the production of his crops. Instead of thriving, mouthwatering crops, he sees dead crops that are trash to his business. With his brown eyes, Jim looks around his home and is disgusted by what he sees. He sees dirt everywhere with a wind that seems as if it is going to get stronger. No other human contact other than himself, and nothing but flat land with an occasional tree that stretches for miles. The only contact he has is himself; Jim's a white farmer, a six foot two inches tall, muscular man with brown hair and a tan from living in the Southern Plains of America. As Jim stands in the wind with his hair blowing while looking out onto the dirty plains, he thinks about the last day he had with his wife Martha two months ago.

Martha was making lunch inside while Jim was tending to the crops in order to make them sellable to upcoming week. Martha screams out the door "Jimmy! The lunch's gonna turn cold if ya don't come an' eat soon ya hear me?" Jim yells back, "Be der inna minute hunnay." When Jim comes in, the two each lunch together and talk about their day along with the upcoming dust storm that is about to occur soon. After lunch, Martha says she wants to go relax by the tree and read before the storm comes. As she leaves she tells Jim she loves him and she'll be back in an hour.

An hour rolls by and Martha is no where to be found; Jim sees that the storm has started and is picking up real quick, so he rushes out the door to find his wife. When he comes to the tree, he discovers his wife had fallen asleep and was crushed by the tree. The wind from the storm had knocked the tree over and killed her. Standing like a stone, Jim's eyes glued to his wife while the storm began to progress. At this moment, Jim Carnen knew his heart would never be the same.

Jim snaps back to reality and begins to walk back to the house to get ready for the next storm that he knows is going to be a long one. Back in the house, Jim goes to the basement and hides there. He waits and waits and waits and waits. Eventually, four days later, Jim still finds himself lonely, with no one to talk to, and hungry. Depression has taken over in Jim's mind, for he has not gotten over the loss of his wife, his soul mate. Looking around the barley lit room; Jim sees a gun he hid down here from his wife because she did not like the idea of guns. The gun is sitting on an old musty table.

Contemplating if life is even worth the hard ache of this drought, he has no money to sell crops because they are ruined and no wife to build his spirits up, Jim holds the gun to his head and pulls the trigger. Jim Carnen, a victim of loneliness, has lost his soul mate, companion, and best friend. His loneliness led to depression which got the best of him. The Dust Bowl Jim and Martha experienced in the southern plains was a tough time for many families in the 1930's. Unfortunately, it got the best of Jim Canten.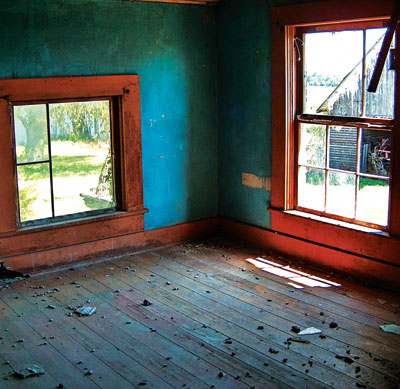 © Sean C., Princeton, IL