Alongside The Riverbank
March 22, 2011
1782

The wind was fierce, whipping and clawing at anything down by the river-side. A young infant's cry echoed just down an alleyway, not far away. Darkness loomed in every nook and cranny, on faint lights flickered dimly through some windows of what seemed faraway homes. The silence that fell upon this bank was eerie however, the way the trees leaves never fluttered down in the autumn like the others, the way the bush moved against the strong wind. It was as if it were waiting for this moment…
A silhouette lurked from the shadows, oil lamp in one hand. She moved uncomfortably, a babe carried in one arm. A piercing howl screamed from the midnight sky, the full moon lighting up the glistening water, shimmering the moon's bright reflection. The mother uttered something foreign under her breath before placing a kiss on the babe's forehead.
"You were born of evil, to which you must be condemned to murdered." She let escape a small sob before placing the baby in the water. The infant wailed, how it wailed to be back in the warmth of it's mother!, it's newborn arm reaching up towards it's mother. She had her head turned away though, pushing her baby deeper into the murky water, small waves rippling as the baby gurgled for air to breath.
"You were born a vampire," the woman muttered, before saying something in Latin. As the babe's struggles loosened, so did the mother's until she finally pulled it out of the water and the deed she had set out to do was completed. She laid the babe out on the grass, it's face blue and chalky, it's mouth now stained red and pasty, and it's small mouth was slightly ajar, water still lingered inside. The woman stared at her wet hands, horrified, before screaming something into the foggy air and she fled the scene. But what she should have watched was the baby for it's eyes flickered slightly, or perhaps the man that had been stood in the shadows, watching her silently as she had performed the so-called death of the vampire-child. The mystery person now came into view and cradled the child without needing a light to see it and softly cooed, "Welcome to the family, blood-sucker." He grinned, his teeth still bloody from a previous kill before disappearing back through the bushes, the bushes quivering at just his presence and the breeze picked up, rippling the water in the man's last known direction.

The bank became quiet and still again, and it was almost impossible to believe that the events that happened no more than ten minutes ago had ever even occurred. Almost, but indeed it had.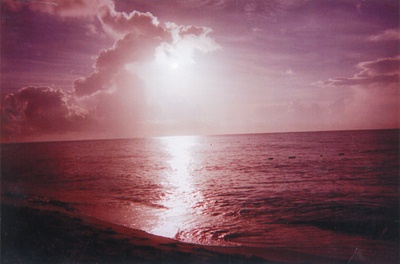 © Angela F., Bonham, TX