Memoir from Armenia
January 14, 2011
The landscape was stunning.

I drove my locomotive through the mountain passes and traversed the open fields.
Back to reality. My beautiful metal machine crept clumsily through the broken rail yard. There were crumbling buildings and sparking telephone wires, toppled like twigs in the wind. A city fire burned far in the distance.
"We can't go any further, sir!" yelled the brakeman. I saw the immense break in the earth, dead ahead, maybe 100 meters away. I halted her. She hissed like an angry animal, then struck a deep note as the cars behind piled on. Our cargo of relief supplies was stopped.
It was 1946. A 7.9 magnitude earthquake had struck Armenia. I was a British sergeant in the war, and I had signed onto the UN days before the disaster had struck. The UN was barely formed herself when the first call of duty brought the organization into action for the first time outside of Europe. Armenia was on its knees, and I was on a train. Correlation? limited. Not what I expected to be doing? You can bet your a**.
The gap in the earth was 10 meters wide. It had consumed several railroad cars and a signal box. It bore sharp steel rails, the teeth of its gaping maw, which had snapped like toothpicks to the power of the quake. It emitted the smell of gasoline, which to an engineer on a live locomotive is no welcoming essence.
"We have to get the hell out of here. This whole yard is going to go up." I said. We dashed back onto the engine.
"Time to see what this thing can do." I uttered to myself, throwing on full steam with my 4 fingered hand. Crack, thud, thump... thump... thump...and with that, we accelerated backwards, faster and faster out of the yard. As we retreated, because it was when not if, the giant gaping jaws of the scar in the earth burst into yellow flame. Pavement, railroad ties, gravel, broken carriages, and steel rails rained from the sky. Hell had arrived.
"Faster!" I yelled to the fireman. Useless. He had been struck by flying debris and lay in the immense pile of coal, blood steadily flowing from his mouth. I took the shovel myself, and we were soon on the mainline.
We took an hour of alternate routes to the drop site. By the time I had arrived a glass of Absinthe and a bandage on my arm were all I needed, besides sleep and a train home. Or perhaps plane.


I would like a break from the railroad.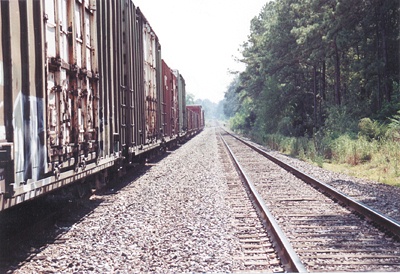 © Cassie C., Kirbyville, TX