My Faith
November 22, 2010
"Heil Hitler!"

"No."

"Heil Hitler!" The back of Madam Annegret's hand stung my cheek like fire. "Raise your arm!" She gripped a hold of my wrist in a vice like grip and shoved it in the air.

I pushed her with my free hand. "NO!"

Madam Annegret shoved me away and smacked my cheek again. "He is the Fuhrer! You disobedient girl!"

I stumbled backwards into a desk of another student. All twenty eyes of my classmates were on me, watching, waiting.

Madam Annegret went behind her desk, took out a long wooden paddle and beckoned me to her. Afraid, but determined not to look it, I went to her, head held high. My teacher may not have known it, but I was being obedient, being obedient to someone who meant a lot more to me then Hitler.

My name is Katharine Kuniberta and a few months ago, I was just like everyone else in my class. That was before the Nazi's came and changed all that. Being a Jehovah's Witness I don't support war or salute to any government that isn't God's. That is why I don't 'Heil Hitler'.

I live with my mama and papa in a small apartment flat at the east end in the state of Prussia. Some strange thing have been happening in my building. The Nazi officers called the Gestapo came and took our next door neighbors in the middle of the night. My papa woke me up that night and told me to get dressed warmly. I obeyed him and got dressed in several layers of clothing. We stayed up for about three hours, but the Gestapo didn't come. That was two months ago and we haven't seen or heard from our neighbors since. I'm not sure why they were taken in the first place, but when I listen to what people talk about on the street, I think it's because they're Jewish.

The week before that we refused to put up a Nazi flag outside our apartment window.

"We do not support this war." My father told the Nazi at our door. This awarded him a smack to the face, his glasses flying off his nose.

"You don't support Hitler?" The Nazi shouted.

"No." My father said, straightening himself up, looking directly into the eyes of the soldier. "We only support Jehovah our God."

The Nazi glared at my father. "Your faith will cost you." He turned and left. I think this is why Papa thought the officers were there for us.

The next day, Sunday, we went to a neighboring Jehovah's Witness home for worship. Our normal place of worship, the Kingdom Hall, had been seized by the Nazis. Brother Donavan started out with a prayer and then with exciting news for us. We had new literature.

As of late all we had to study was a King James Bible which was very confusing to read, or old literature we have already read and was quickly running out because we give it out in the preaching work we do. Brother Donavan announced that a courier had delivered the magazines just yesterday. The books Brother Donavan brought out were still covered with tarpaulin. The courier was there too. He was a younger boy, maybe fifteen, and though Brother Donavan said he had traveled over sixty hours on bike, risking his life and Nazi seizure, the boy looked happy and ready to do it again.

"Katharine, how old are you?" Asked Sister Donavan, Brother Donavan's wife after study was done.

"Twelve." I replied.

"Do you salute Hitler?" She asked.

I shook my head no.

"And why not?"

I was ready to reply. "Because I've been told not to by mama and papa."

The sister smiled. "If you think like that, you might as well join the Hitler Youth."

I was shocked at that, tears sprung to my eyes.

The sister gave my hand a squeeze. "When your at school, mama and papa can't see you can they? I can't see you, Brother Donavan can't see you, no one can…except…"

She waited for my answer.

"J…Jehovah…" I sputtered.

Sister Donavan nodded. "You don't salute Hitler because of your love for Jehovah, and you knowing that he is the only one deserving praise….If you don't do it for him, it means nothing."

I took the words to heart, and now I am being sent home from school, just like every other day before that. My cheeks are red from the slaps, my back stings from where the wooden paddle got me, but I have a smile on my face as I go inside my house.

Years later, looking back on my experience, I realized, even as a young person, that you have to have your own faith, your own conviction. Standing up to my teacher out of love for Jehovah was a stepping stone to a much bigger test to come. I along with my parents were thrown into a concentration camp. I was separated from them and had to take a stand on my own once again.

The Nazi's asked me again and again to sign a form, renouncing my faith, and they would let me go. I would live with a wealthy foster family who would be delighted to have a nice Aryan child. I refused, praying to Jehovah to give me strength. The Nazi's put me in a camp with other children, shaving off my blonde hair and putting me in camp clothes, a purple triangle pinned to my chest.

The days were long. We would wake up at five in the morning and stand outside in roll call for a full hour, whether it was raining or not. We dug ditches all day long and had to stand once again for roll call. Our food was sparse. We ate bread and soup. Through out this, I prayed to Jehovah. Often I would think of roll call as prayer time. It helped me stay strong.

The older children took the lead in secret worship on Sundays, the only day we had off work. We would pray, sing songs, and consider a pile of literature the children had managed to smuggle into the camp. We studied it over and over again, but still we were strengthened.

One day I noticed a boy that looked very familiar. It was the courier who delivered books to us back home.

David recognized me too and commended me for my faith, even when I was away from my parents. "Jehovah must be very proud of you." He said.

Years later we both got out of the camp. My father had been killed in the camp. Brother Donavan who had survived said that my father had gotten caught smuggling books in and was shot. My mother got out of the camp she was in as did Sister Donavan. We all moved to Switzerland after that, where many refugees were fleeing. We were welcomed with open arms to a boarding house run by a brother and sister.

Later, when I was of age, David became a husband and we began to serve Jehovah as full time preachers, going door to door. I'm glad I stuck by Jehovah through that time. I can't fully describe that relationship to you, but I can say this much; I don't regret a single minute of serving him.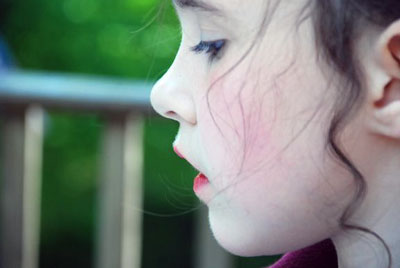 © Julie P., Rochdale, MA