The King and His Boy
October 20, 2010
Caesar drowned in his royalty. In the morning, he woke to the pampering voice of secretly vehement servants. He rose, and dressed only as approved of by those few select with 'upper-end' taste, and was not trusted to wear even the slightest representation of his own personality. He must have, of course, portrayed the perfect king. He played the part well; his golden blond hair fell across his forehead in a sweeping curve, and the crown that sat on his mantle held a swollen, selfish glow. His attire broadened his shoulders, fit and hugged his torso and played against baby blue eyes. What was not to love about this sweet, perfect king?
He hated himself for succumbing to what he was expected to. He'd had the chance to give up the title of king, and he knew he should have. How could he turn down his country when it was so desperately in need? When he ate, his tastes were tailored to that of what he could eat in one small meal to preserve his kingly figure. When he was cloaked in all his glory, nothing appeared out of place. Beneath his intricate outfit however, his once nourished and toned body starved, lost its mass and became very nearly frail.
Happiness had not completely abandoned him, despite the honorable discomfort he lived in. He had, for a brief time, been married to Kirsten, and had fathered a son, Oliver, who was now a healthy boy of four. He had his nanny, though Caesar often gathered the boy to himself and brought him to meetings. To the irritation of council members, he delegated a seat for his own boy, and showered him with toys and maps to entertain him while the dry meeting was in progress.
Oliver was ignorant to the gross, cruel contents of the foreign affair speeches that went on during the meeting, instead drawing and sketching small wax creatures on yellowed parchment. He screeched when they weren't how he imagined them (usually startling a fair few nobles), and was content when the jumbled lines resembled what he wanted. He was the King's boy, and perhaps a bit spoiled, but he had his own head and he carried his thoughts with certain vigor.
While Caesar detested the frivolity and royalty that was forced down his throat, Oliver flourished under its fickle care. He was ruling over his peers and classmates by the time he was six, and he was already investing himself in economics, his studies, and his sword skill.
In this way, Caesar was proud, and carried the countries problems on his shoulders. He did it, because when Oliver grew older, he wanted him to live a rich life. There was no way father could impart this news to his son, because four years later, when Oliver was the tender age of eight, Caesar passed on to the hall of kings. Then began Oliver's story, his experiences of living in a labyrinth of deceit and gossip, and his determination to control the situation he had been born into.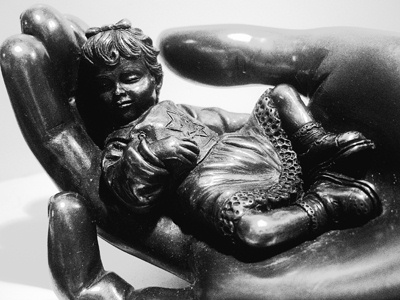 © Dat L., Worcester, MA