I pushed him out.
September 28, 2010
I looked at the nurse, not staring, but actually looking. Looking at the way she leaned forward when she was interested. The way she pushed her hair behind her ear. I had already been here six weeks and I realized all I could do was look. Music was not allowed, TV was not allowed and computers were not allowed. The only thing that was provided was a government-approved book. Just the one book, it didn't even have a title. It promoted the way of living a healthy life but in my mind I knew. I knew that we were here because we didn't think the way that was the norm. We were in The Big White Place.
People thought that only crazies went to The Big White Place. But they were wrong I wasn't crazy. My mother forced me here.
I was forced here because I didn't believe. I didn't believe in what the pastors at church went on about. My mother constantly said to me, "How can you let yourself fall away from Christ? How can you push him out of your heart?"
Well mother, it the answer is pretty simple. You pushed me out of your heart, so I pushed him out of mine.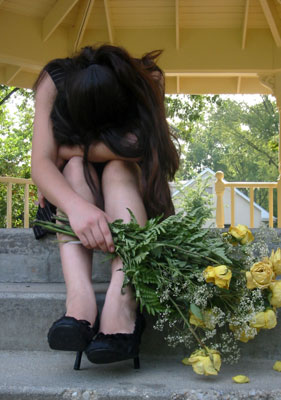 © Martha V., Morton Grove, IL