A House's Secrets
September 15, 2010
The old floorboards creaked below my feet. I felt offended, almost, by their groans under my weight. The basement was dimly lit by one, solitary, unshaded lightbulb in the middle of the room that I had turned on when I walked down the stairs. I tried to keep my balance on the steep staircase as I coughed, inhaling even more dust in the process.

"Levi?" I called.

"Back here." His reply was quiet. I made my way toward the back of the basement and found him sitting on his mattress, reading something.

Mein Kampf.

"What are you doing with that?" I asked, grabbing it away from him. He stood up. His overgrown, brown hair hung between his gaunt eyes and his lanky figure seemed to close in on itself. We didn't have much food to provide for him and the rest of us.

"It's interesting." He shrugged. He swept the hair out of his face, revealing the brown eyes. My heart fluttered. He took a few steps toward me and put his hands on my cold arms.

"Elisabeth…" His hands were just as cold, but because they were his, they warmed deeper parts of me than just my skin. They warmed my heart.

"Hmm?" I looked down at the book I held in my hands. Levi's hand went to my safe blonde hair.

"When will this end?" He sighed, dropping his hands. I looked up. He was staring off into the distance, remembering times past and looking towards times to come.

"I don't know." I dropped my head again, tears welling up in my eyes, but his hands came to my face and lifted my chin. He pressed his lips to mine, gently. I closed my eyes and breathed in the scent of him, the scent of the musty basement. He pulled away, but kept his hand resting on my cheek. A tear had begun to slip down and he caught it under his thumb, trapping it against my skin.

His heritage kept us apart, kept him in danger. Weekly, daily… we were living in fear of being found out. We were living in fear that someone would see through these walls into our basement; a basement with so many secrets.

He was a Jew.

I was not.

I was safe.

He was not.

Opposites attract.

It's hard to have the one you love, live in the same house and rarely get to see them. It's hard to know that at any moment, your door could be broken down, you could be found out and your love could be taken away. It's hard to know that for a long time to come, you couldn't truly be together, for fear of discovery.

It affects so many more people than those like him. It affects me. It affects my family. It affects us even though we would normally be safe from such intrusions, if not for the fact that our basement was home to another.

"I love you." He whispered, hand still holding my face. Another tear began to fall and I embraced him. I held him and he held me. We stood like that for a long time, surrounded by the smells of each other's clothing. I rubbed my face into his worn jacket and he ran his fingers through my blonde hair.

"I love you." He said again. He pushed me away and held my face so I could not avoid his gaze. "No matter what happens, for as long as I live."

A bang reverberated through the house above us. Someone was at the door.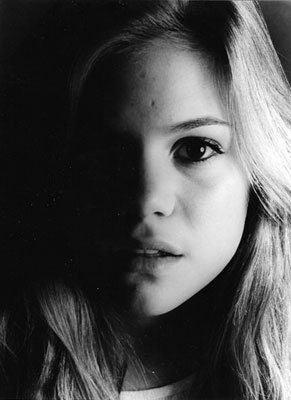 © Michelle M., Plainview, NY