that girl
August 14, 2010
"Can you go one day without doing that?" He says, disgust purposefully slipping through his lips as if I had some kind of chronic illness I was "able" to control.

I laugh, wanting to say, Oh, I'm sorry does this bug you? Excuse me if I can't hold this uncontrollable urge, this omnipotent feeling to purge what I have inside, down. I'm sorry I can't just cup my hands and let it all spill out hoping to catch every little drop and not let extra bits slip through my fingers. I'm sorry I can't be that girl you've always wanted, that girl who's perfect in the eyes of everyone. But like Quentin Huff confessed in his poem "Writers Anonymous", "I can't control it."

I laugh at your stupidity, at your incapability to accept the uncontrollable twitch of my hand and the stuttering of my eyes. You turn your head and I watch as my actions diminish your pride. And it brings tears to my eyes as I watch you unwillingly admit that yes, I am your daughter. Your mouth runs dry as you realize you did this to me and forgot what it all means, so let me refresh your memory.

I want to say I'm sorry, but the truth is, I can't. So I just sit there and watch as you demand what cannot be said. And as my tears paint my face, I want nothing less than your grace to touch my heart, because the parts that it has grasped has turned black.

For some reason my life being scrawled on paper seems to irk you. And though my words may hurt you, I cannot help to careless because I will not dress the parts I address. Because something my words have done for me that you haven't, is shown me what acceptance really means. And if you think my words mean nothing, well think again, because I don't just spit rhymes, I throw up. And if you think my words are childish now, you better hope they don't grow up, because my words don't just make impacts, they blow up. So this "sickness" that you say I have, this writing addiction, is my life, and I will use it to fight despite the pain it might bring me. And I choose to write freely with no guards, no boundaries, and no tools. And I cannot be fooled by your pitiful lies and your sorrowful cries because I, am I. And you can try to change that, but the fact still remains, as if it were imprinted in my veins, I am my pasts remains. And I will not refrain from being my own definition of reality. And everything that's about the be, starts within me, from end to beginning, my words will forever remain the same thing; no hurt can render my silent. They say silence is golden but duct tape is silver, but those both have broken and from that, a voice has awoken. And as you watch my life unfold, my 98.6 temperatured body runs cold because I was told that this can't be normal. But you define normal based on your own perception of reality. So sorry daddy that I can't make you proud of me, and sorry daddy that I choose to be who I want to be, but daddy, can you see me? Daddy, do you know me? Daddy, daddy, daddy! I just want you to love me. So I spit these contagious pathogenated words of truth with unparallel hopes that you'll catch this "disease" and see these things just as I do, because this chicken scratched scribbles we call writing is proof, of the life I lived, that you've created, and it all would end if me and this illness were separated. Because this girl right here is perforated and that perfect girl that you wish for, that perfect girl that lingers in your diabolical dreams only being pseudo-features that you piece together as one hoping someday I would become that girl, isn't real. So daddy, you must mean perfect as in being within the perimeters of imperfect and I'm waiting for that day when you relinquish those falsely impended hopes, because daddy, that girl is not here, that girls never been here, that girls not me. Daddy can't you see, this is not an illness but the condition I put myself in, and I honestly can't control it.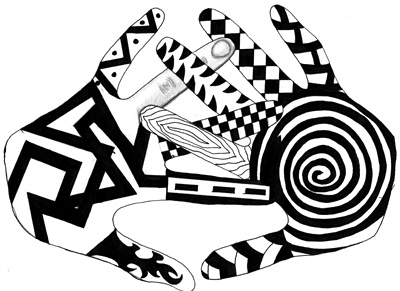 © Sarah F., Naples, FL