World At War
August 7, 2010
It's a day I would never forget. A day everybody would never forget. The sirens were loud; it was like the world was at war.



I remember I was getting dressed for church and mother was brushing my hair. It was my new dress that I got just for that day. But when the sirens went off mother scurried to get us into the bomb shelter. I was only eight at the time so I just looked at it as a game.



But the radio reports were much more serious than that. See mother, father and I lived on base at Pearl Harbor. Our naval fleet's port. Pearl Harbor was beautiful. It was the heart of Hawaii.



Father was a pilot in the U.S Army. He had been for twenty years. He was on duty the day of the bombing. As the radio reports announced all our planes being destroyed, I prayed. I prayed that my dad was safe. The reports grew to be worse. Ships were exploded and sunk. Men and women were killed. It was the beginning of World War II



The thing that surprised me though is mother showed not one ounce of worry on her face. The one thing she said to me was,

"Whatever happens, be strong, be strong beautiful."



That was what dad told her before he left for work. Just like that Saturday night. After two hour of hiding, mother pulled us out. It was horror to see what we saw. Smoke rising from the waters, the sky was literally black. And I will never forget the horrific screams of people in pain. But when I wished to see my father walk up that path I realized three things. 1. My father was a hero. 2. Believing is what makes you a hero. And 3. This war was just beginning.



So now I'm dressed in my uniform. I am a member of the U.S Army. Nothing stands between me and the sky. But the thing I fight for everyday is the many mothers and children who didn't get to see that smiling face of a hero with his arms spread wide open walking towards them. That day, December 7, 1941, is a day I will never forget.



It's a day many men died alongside my father. It's a day when all the pilots proved why they got their wings. It's a day hero's went down in history. And it's a day when our faith was tested. It's a day everybody will never forget.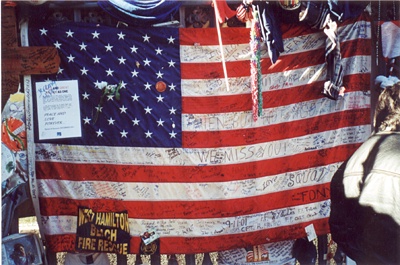 © Ashley F., New City, NY